Hatton National Bank (HNB) PLC came away with the Gold Award for 'Excellence in Annual Financial Reporting' at the Chartered Accountants Annual Report Awards in Colombo this week.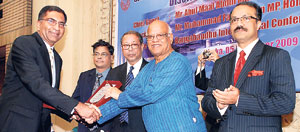 HNB receiving the gold award
Organized by the Institute of Chartered Accountants of Sri Lanka (ICASL), Union Assurance PLC won the Gold Award for 'Corporate Governance Disclosures' and the Gold Award in the 'Management Commentary' category.
An ICASL press release stated that John Keells Holdings came away with the Gold Award in the 'Corporate Social Responsibility' category.
The awards were open to all organizations that produce annual reports and attracted entries ranging from larger corporate entities to small community groups.
The press release stated that 32 awards were presented in special categories with a winner and runner-up in each category. Among the Silver and Bronze winners across the categories were Hayleys PLC, Commercial Bank of Ceylon, Diesel and Motor Engineering PLC and HNB Assurance.