Sri Lankan-born US hedge fund manager Raj Rajaratnam's Galleon's exit from all its shareholdings in the listed firms accelerated this week, according to stock market sources.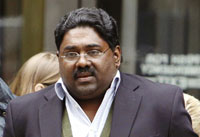 On Friday Rajaratnam sold his 29% in Ceylon Leather Products (CLPL) for Rs 198 million. "DNH Financial (Pvt) Ltd bought 3.6 million shares of CLPL at Rs 55 for Environment Resources Investment (ERI)," an analyst said.
Mr. Rajaratnam exited from Commercial Bank in the week before. "These shares were mostly sold to Bank of Ceylon," the analyst said. He said that most of NDB and some of HNB were sold while large quantities of CIC also traded during the past 10 days.
The US trader, charged with insider trading there, still has stakes in People's Merchant Bank (PMB), DFCC, Touchwood, Balangoda Plantations, Acme Printing, Cinnamon Lake and HNB. The analyst said that he is most likely to exit from his personal shares in John Keells Holdings after all his listed firm stakes have been sold.