In today's "global village" movement between national borders has become increasingly important, both to individuals as well as nations as it is fundamental to human prosperity. Counter balancing this demand side for movement, is the concern by nations for their own security which has become the most important consideration when governments assess migration policy. Achieving a balance of these two forces in a post 9/11 world is not an easy task for elected officials and it is not expected to get any easier in the coming century.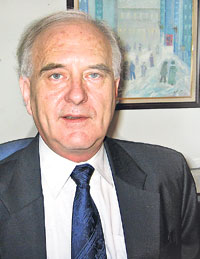 Individuals working in this kind of global environment require a passport that allows them the maximum freedom to move between nations. Canada offers such a passport. For the successful businessperson in Sri Lanka who is too busy to assess migration options himself should contact AMS or Michael Couture directly to discuss such a plan. Couture is available in Colombo daily and represents Scotia McLeod a branch the Canadian Bank of Nova Scotia Group for their Investor program or if the applicant wishes any other of the major Canadian Bank of their choice. Couture is a registered immigration consultant with the Canadian Society of Immigration Consultants membership #M042116.
Michael Couture has over 20 years of business background and experience in both Canada and overseas to share with his clients. He has worked for the Canadian High Commission as Trade Advisor, assembled Canadian companies into consortiums for project implementation and operated importing and processing business over his 20 years in Sri Lanka. He is able to share that experience together with his knowledge of the immigration regulations, ensuring that his clients receive the best possible advice and support throughout the process.
The investor process
At the core of the investment programme is an investment in a 5-year interest-free government-guaranteed note. Once the government processes your application and confirms receipt of your investment, a visa is issued allowing you and your family to live, work and travel anywhere in Canada. At the end of the five-year investment period, your full capital is returned. After a required period of residency in Canada, you become eligible for full Canadian citizenship.
To be eligible for the Immigrant Investor Programmes, you must be at least 18 years of age and have a minimum net worth of CDN$800,000.
Other Criteria and Technical Details
4This net worth must have been accumulated through the operation, control or management of a profitable business, either industrial or commercial or inherited. It is the combined assets of Mr. and Mrs.
You must also be prepared to invest CDN$ 400,000 in Canada for a period of five years.
4AMS through the Bank of Nova Scotia operates both the Quebec and Canada Immigrant Investor Programmes. The Quebec programme applies exclusively to Quebec-based businesses and is geared to immigrants to Quebec. The Canada programme supports businesses in other member provinces and is geared to immigrants to provinces other than Quebec. Each province has its own investment programme but the Federal and Quebec programmes are currently the most popular.
4Investors in the programmes will receive a permanent resident visa from the Government of Canada.
4Note that the Canadian Charter of Rights and Freedoms guarantees mobility rights, or free movement within Canada: "Every citizen of Canada and every person who has the status of a permanent resident of Canada has the right to move to and take up residence in any province and to pursue the gaining of a livelihood in any province."
Scotia McLeod
4ScotiaMcLeod is a full-service investment dealer.
4Provides financial services and investment advice to corporations, governments and individuals for almost 80 years.
4ScotiaMcLeod is the retail arm of Scotia Capital Inc., a member of the Scotiabank Group of companies one of Canada's leading chartered banks.
Bank of Nova Scotia
4Is one of Canada's leading financial institutions
4Scotiabank is known as Canada's most international bank
4286 billion in assets
4Scotiabank's credit rating is: "AA" (nearly as good as Canadian Government credit rating).
Investor Programme
Eligibility Requirements:
4A minimum of 2 years of full time business or management experience within the 5 years immediately preceeding the date of submission
4Must have a minimum net worth of at least $800,000 CDN
4An amount of $400,000 CDN must be invested in the Canadian economy for a period of 5 years
4Pass the criminal and medical examination
4If you are interested to get more information about the Canadian Investor Programs, do not hesitate to contact Michael Couture at 0722-245554 or 268-8973, 268-8974.
Michael Couture
Immigration Consultant
CSIC M-042116