London Hotel School (LHS) is one of the most renowned Hotel Schools in the world. In Sri Lanka LHS has collaborated with the British College of Applied Studies (BCAS) in providing a BTECH Higher National Diploma (HND) in International Hospitality (Hotel) Management providing a rare opportunity for local students.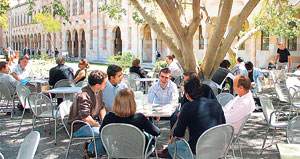 UQ students taking a break
LHS handpicks its educational partners in various countries and they have chosen the BCAS for maintaining an A grade ranking by EDEXEL during the past few years. This rank is awarded by EDEXEL in recognition of the quality and high standard adhered to by the BCAS and speaks volumes about its reputation as an education provider, pointed out Rod Hardingham the Principal of LHS.
The higher national diploma is a two year programme and six months of the first year will be in Sri Lanka, the next six months in the London Hotel School, while the second year will be the year of internships in renowned five star and five star deluxe hotels. After completion in HND, students can decide to further their professional qualification with a Bachelor of Arts degree at LHS.
The important requirement for a student is to have the passion for the profession, observed Hardingham and emphasized that hardworking students based on their performance levels will be duly rewarded. As in the case of a Sri Lankan student who had been interning at the Ritz Hotel in London for his HND at London Hotel School will be employed at the Hotel while receiving a handsome pay check of 12,000 Sterling pounds per annum, an advantageous achievement for an HND student, he stated.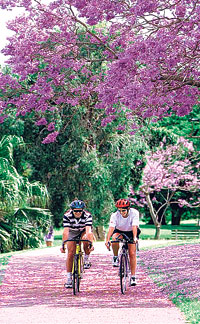 Cycling in the beauty of spring
The advantage for students beginning the course in Sri Lanka is that they will pay less than half of the original UK course fee at London Hotel School. During their six months in Sri Lanka they will be trained to improve their computer and internet skills that will prove a great tool for their performance at the assignment. They will also be entitled for a free IELTS course parallel to their HND which will help them elevate their standard and approach towards the language, thus fulfilling the requirement of a 5.5 score or higher to move to London Hotel School.
The BCAS provides the students with internet facilities and they are guided to receive their visas to UK. The BCAS has a student placement division committed to make student placements of their choice. Students studying for six months in Sri Lanka will have to pay 3000 sterling pounds less compared to the UK course fee. They will be taken to restaurants, hotels and other places giving them practical training in the Hotel field. Lecturers are holding high positions at five star hotels apart from their professional qualifications. The BCAS also has a lot of extra curricular activities such as sports and other cultural events. That is an integral part of a student's life at BAS. The building housing the BCAS is Wi-fi active and students have free access to internet if they choose to bring their laptop, making it one of the modern universities.
The course will include housekeeping, food and beverage, administration, accounting and all other aspects of Hotel Management. Since the average Sri Lankan is quite good in English Language, LHS will teach them good interpersonal skills, presentation skills and public relations in a participative approach based on assignments.
For more details contact Ms. Vajra on 772834595