"20 World Prize winners in London O/Levels, 17 in London A/Levels and 8 in IGCSE
"Outstanding achievements with 6As and 12As in A/Levels and O /Levels
"Annually over 6,000 Sri Lankans sit 40,000 individual Edexcel examinations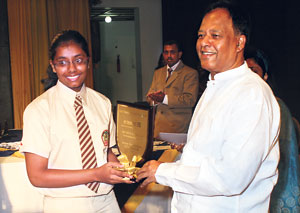 September 8, 2009 Colombo Sri Lanka - The annual Edexcel High Achievers Awards Ceremony held at the BMICH on Tuesday 08th September saw young Sri Lankan achievers prove their mettle in standing tall among the crème de la crème of the world's academic qualifiers. While over 400 students who sat for the 2008 GCE London O/level, A/level and IGCSE examinations were named among the high achievers, some obtained the highest marks in the country with two students also gaining an unprecedented 6As and 12 As at the A/level and O/level examinations respectively.
There were also a total of 45 world prize winners in the three examinations over the year in subjects ranging from accountancy, the sciences, the arts, mathematics to commerce related subjects. Minister of Public Administration and Home Affairs and Deputy Finance Minister Dr Sarath Amunugama was Chief Guest at the ceremony presided over by Country Director British Council Gill Westaway and Director Qualifications and Accreditation of Edexcel Isabelle Sutcliff. In addition, 83 students excelled in the London A/levels amassing 4 As each with five going beyond the norm and obtaining 5 A grades. Ten students obtained 8 As, six got 9 As and two students 10 As in the London IGCSE examination, while 11 students obtained 8 A grades, five got 9 A grades and 1 obtained 10 A grades excelling in the London O/level examinations as well.
Speaking at the ceremony, Dr Amunugama noted that the British education system remains the foundation of Sri Lanka's education system albeit with frequent revisions. "I'm pleased to note that Edexcel offers our children a truly British qualification approved by the British government and recognised globally," he said, adding that putting our students through a well designed education system should be our primary focus.
"The declaration of the year 2009 as the 'Year of English & IT' by the President, His Excellency Mahinda Rajapakse confirms the level of importance we attach towards these efforts. Today we encourage our students to study in any language they wish and am pleased that an increasing number have opted for education in the English medium and for examinations where they could compete internationally. The advantages of the London examinations are that we send our students to compete at accepted international levels. Also, these syllabi broaden the outlook of our students, if only because subject matter must be internationally and not nationally relevant. Quite obviously these syllabi are popular with parents and teachers because over 11,000 students do these exams in an increasing number of schools."
In her welcome address, Territory Manager of Edexcel Premila Paulraj enthused that the outstanding results achieved by Sri Lankan students is a testimony of their competitiveness and commitment to 'be the best'. "Enrolment of our students to some of the top universities in the in the world and industry is an endorsement of the standard of Edexcel qualifications and we remain committed to preparing our students to achieve their best in both education and career pursuits." Echoing her sentiments, British Council Country Director Gill Westaway stated that with 6,000 Sri Lankan students sitting 40,000 individual examinations, Edexcel sets very high standards.