Next School of Business, the premier CIM institute in Sri Lanka is commencing a new batch in Sept. 2009 for the March 2010 exams. This is the first time that March exams are held in Sri Lanka and once again NEXT is leading the way. NEXT School of Business maintained its leadership position in CIM education with its record student numbers for the Dec 09 intake this time too.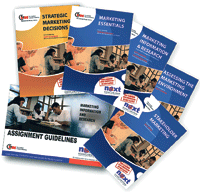 Speaking to Education Times, Ms Kumudu Abeyawardane, the General Manager of NEXT commented the success is solely attributed to the EXPERT panel of lecturers, including Dusty, Bertram,Ravi, Thranga and Jeffrey. She went on to say 'all our lecturers are MBA qualified and trained by CIM in UK. They hold CEO and heads of marketing positions in leading multinational and local companies in Sri Lanka and they have the ability to impart practical knowledge to students with their own experiences'. She said 'both Betram and Dusty are 'fellow' members of CIM UK, adding more value to the panel and profile of NEXT'.
Ms. Abeyawardane went on to explain that NEXT for the first time in Sri Lanka will be commencing CIM batches for Stage 1 and 2 in September in preparation for the March 2010 exam. The new syllabus structure for CIM has four exam sessions a year namely March, June, September and December as opposed to the 2 exams a year which was in place till last year. In Sri Lanka, all CIM study centres have, till now, only recruited two batches a year, which commence in June and December. NEXT has decided to move away from the traditional intakes and commence a batch in September. The new approaches allow students to fast track their studies and also study CIM in a more flexible manner.
Rationale behind September intake
Explaining this change she explained the lecture panel at NEXT felt that this change was necessary in order to deliver the new CIM syllabus better. Class sizes needed to be smaller to facilitate more group work and individual attention. She further stated the new syllabus also required that a student completes 75% of assessments in a particular stage before moving on to the higher stage. Therefore some students preferred to wait for the results of the exam before commencing studies for the next stage. This resulted in students loosing 6 months of their time waiting for the next intake after results are released. This situation can now be avoided and those who want to begin studies for the next stage once the results are released can do so in September rather than waiting till December.
Further, students who are doing other courses such as CIMA, ACCA, ABE etc can now do CIM without having exams or assessments at the same time. Most UK exams were held twice a year in June and Dec and students find it difficult to cope with too many exams at the same time. Now they can sandwich CIM in between their other courses such as CIMA and manage both.
'NEXT has been a pioneer in adapting the stage 1 new syllabus with close connections with CIM - UK .NEXT secured two Sri Lanka prizes for Essentials of Marketing (EM) and Marketing Information and Research (MIR) subjects and recorded high pass rates. NEXT believes that world or Sri Lanka prizes are not the 'be all and end all' in CIM education, but coaching each and every student to get through with rounded industry exposure is far more valuable in this journey.
Opportunity for 2009 A/L students
'The local A/L student can start CIM in September and save 3 months of their time in the process. Ms Abeyawardane added that 'NEXT has obtained special permission from CIM UK to extend the registration deadline to January, to facilitate the registration of students who have just sat for their A/Ls'
Free seminar for students.
Speaking on the free seminar being organized, Ms Abeyawardane added 'this free seminar conducted by industry experts will be an excellent opportunity for students to weigh their options in different careers. Our expert panel has proved this in practice and they will have live examples'. The seminar is scheduled for September 17 and those who are interested can call NEXT on 5765404/5 to reserve a place .
An environment to study…
Apart from the expert lecture panel, NEXT School of Business has a state-of-the-art modern learning facility conveniently located at Havelock Road. Within a year of operation NEXT became the leader in CIM education in Sri Lanka and achieved recognition as a CIM Accredited Tuition Centre.