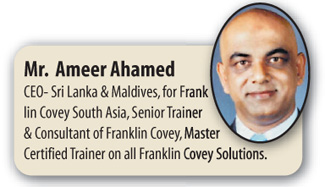 Once we are clearly aware of the proactive mind set and the behavior attached to that we need to see how we can continuously aligning our thinking towards internalizing the behavior needed.
During the past weeks we looked at the Proactivity defined, Proactive and reactive language and many related articles . Today I am happy to present to you an inspiring story of a proactive individual which I picked up from the "7 Habits of Highly Effective Teenagers". This story should and must get all of us in to the really thinking mode of what's left is the larger part in our life.
Life often deals us a bad hand and it is up to us to control how we respond. Every time we have a setback, it's an opportunity for us to turn it into a triumph, as this account by Brad Lemley from Parade magazine illustrates:
'It's not what happens to you in life, it's what you do about it,' or so says W. Mitchell, a self-made millionaire, a sought-after speaker, a former mayor in the United States, a river rafter and sky-diver. And he accomplished all this after his accidents.
If you saw Mitchell you'd find this hard to believe. You see, this guy's face is a patchwork of multi-coloured skin grafts, the fingers of both his hands are either missing or mere stubs, and his paralyzed legs lie thin and useless under his trousers. Mitchell says sometimes people try to guess how he was injured. A car crash? A fire? The real story is more astounding than one could ever imagine. On 19 June 1971, he was on top of the world. The day before, he had bought a beautiful motorcycle. That morning, he soloed in an airplane for the first time. He was young, healthy and popular.
'That afternoon, I got on that motorcycle to ride to work, 'he recalls,' and at a crossroads, a truck and I collided. The bike went down, crushed my elbow and fractured my pelvis, and the petrol cap popped open on the motorcycle. The petrol poured out, the heat of the engine ignited it and I got burned over 65 per cent of my body.' Fortunately, a quick-thinking man in a nearby car park doused Mitchell with a fire extinguisher and saved his life.
Even so, Mitchell's face had been burned off, his fingers were black, charred and twisted, his legs were nothing but raw, red flesh. It was common for first-time visitors to look at him and faint. He was unconscious for two weeks, and then he awakened.
Over four months, he had 13 transfusions, 16 skin-graft operations and several other surgeries. Four years later, after spending months in rehabilitation and years learning to adapt to his new handicaps, the unthinkable happened. Mitchell was involved in a freak airplane crash, , and was paralyzed from the waist down. 'When I tell people there were two separate accidents,' he says,' they can hardly stand it.'
After his paralyzing plane crash accident, Mitchell recalls meeting a nineteen-year-old patient in the hospital's gym. 'This guy had also been paralyzed. He had been a mountain climber, a skier, an active outdoors person, and he was convinced his life was over. Finally, I went over to this guy and said,'' You know something? Before all this happened to me, there were 10,000 things I could do. Now there are 9,000. I could spend the rest of my life dwelling on the 1,000 that I lost, but I choose to focus on the 9,000 that are left.'''
Mitchell says his secret is twofold. First is the love and encouragement of friends and family, and second is a personal philosophy he has gleaned from various sources. He realized he did not have to buy society's notion that one must be handsome and healthy to be happy. 'I am in charge of my own spaceship,' he states emphatically. 'It is my up, my down. I could choose to see this situation as a setback or a starting point.'I like how Helen Keller put it, 'So much has been given to me. I have no time to ponder that which has been denied.'
Although most of our setbacks won't be as severe as Mitchell's, all of us will have our fair share. You might get dumped by a girlfriend, you may fail an exam, you may get beaten up by a gang, you may not get accepted to the university of your choice, you may become seriously ill. I hope and believe that you will be proactive and strong in these defining moments.