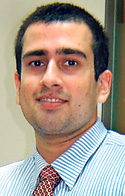 Dominic Abraham
Dominic Abraham is in the final year of his Bachelor of Business Administration degree at the Singapore Management University. The 23-year-old who opted to study in Singapore has already gained valuable experience doing an internship with Asia Pacific Breweries which has its regional headquarters in Singapore and is confident that the multi-cultural exposure he gains both studying and working in the bustling city state will serve him well in the future.
Having launched its drive to become an educational hub in 2003, Singapore now has around 85,000 foreign students following a plethora of study courses from undergraduate to postgraduate and doctoral at various institutions both public and private. Journalists from India and Sri Lanka were given a tour of several leading educational institutions on a media familiarization tour last month conducted by the Singapore Tourism Board, the promotional arm of Singapore Education.
Begun in 2000, the Singapore Management University is the newest of the country's public universities and its plush campus opened in 2005 sits in the very heart of the city with the sight of traffic whizzing past visible from its glass paned windows. Six schools- the School of Accountancy, the Lee Kong Chian School of Business, School of Economics, School of Information Systems, School of Law and School of Social Sciences offer innovative programmes designed to meet market needs.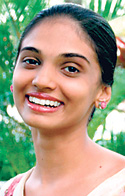 Taniya Jayasinghe
The faculty is international- fuelled by SMU's collaborations with leading institutions like the Wharton School, Carnegie Mellon University, the University of Pennsylvania and the University of Chicago.
With 6,000 students currently on roll from some 38 different nationalities, SMU has a wide range of undergraduate and Master's programmes. For students like Dominic, the attraction was SMU's holistic approach modelled on the Wharton Business School curriculum. Classes are small at SMU and lecturers interact closely with students. "You get to know the professors really well and you can feed off them, their knowledge," says Dominic pointing out that this semester he has Swiss, American, Korean and Singaporean professors- a "beautiful blend".
"Plus the course is less exam-oriented- focused more on presentations and group work, which develop the skills you will need when you work in a competitive global economy. They make you work on team projects with multi-cultural groups," which is something he really benefited from he says.
Many other pluses he lists about studying in Singapore are the relatively lower cost (because of the tuition loan scheme available to students at Singapore's public universities) when compared to countries like the UK, US and Australia and the quality of education- which is world class, he says. Equally attractive for Dominic was the opportunity to work in Singapore for three years after graduation. "You get the chance to work for multi-nationals, to work in a fast-paced environment." Not to mention Singapore's so close to home and it's a good place to live, he adds.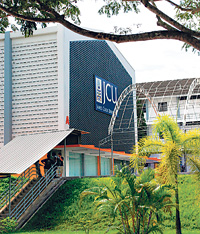 JCU campus
Website: www.smu.edu.sg
EASB, The East Asia Institute of Management is another university that is making its mark in Singapore's Global Schoolhouse programme. Set up in 2001, it partnered with leading universities in the UK, and was in 2003, the first PEO (private education organization) to receive the Singapore Quality Class award given by the Singapore Government. EASB was further strengthened when Queen Margaret University set up their first branch campus at EASB in May 2008- affording students the opportunity of getting a UK degree at one third the cost, said Executive Chairman and CEO Mr. Andrew Chua.
With some 2,500 students on roll, some 70 per cent of them foreign students- EASB offers several undergraduate and postgraduate courses in hospitality and management, business and management, information management and technology, logistics and supply chain management, banking and finance and accountancy.
Its adaptability to the changing needs of the job market is seen in the introduction of specializations like Casino Management - Bachelor of Arts (Hons) in International Hospitality Management (Casino Management) which is geared to cater to Singapore's entry into the casino market with the Integrated Resorts due for completion shortly.
EASB's courses are structured via diploma (Bachelor Year 1), Advanced Diploma (Bachelor Year 2) and final year levels using the UK Credit Accumulation Scheme (CATS) which enables students to go on to other foreign universities in UK, Australia, USA and New Zealand. EASB's partner Universities are Queen Margaret University, Edinburgh, University Institute of Wales, Cardiff, Herriott Watt, the Edinburgh Business School and the University of Southern Queensland.
EASB will also consider granting scholarships (upto 70 % of tuition fees) for courses such as business management, accounting, banking and finance and logistics to suitably qualified students.
Website: www.easb.edu.sg
The James Cook University in Australia is well known as one of the world's leading tropical research universities. JCU is the only Australian university campus in Singapore and its focus there is on Business, IT and Hospitality Management.
The significant feature of JCU is that the University offers fast-track programmes where students could complete a three-year undergraduate degree in just two years and a one and a half year Master's in one year by doing away with long summer holidays. "What the students here study is absolutely identical to what students in Australia do- there's no compromise whatsoever," affirms Maclean Braganza, Associate Director, International Marketing at JCU.
A vibrant colourful campus designed with student-friendly facilities adds to the appeal for its mix of students, some 1,600 of them, mostly from other Asian countries, like Sri Lankan Taniya Jayasinghe, 21, a third-year student working towards a degree in Psychology.
Website: www.jcu.edu.sg
Eighteen- year-old Divya Selvaraj, fresh out of Stafford International School is one of 11 Sri Lankan students at the Singapore Institute of Management. SIM has some 10,000 full-time students of which some 2,500 are foreign students and another 6,000 who are part-time. Having only arrived in August to study for a Diploma in Economics, Divya hopes to go on to do a degree in Accounting and Finance or Banking and Finance.
With well established links with reputed partner universities, SIM prides itself on its strong track record- that led to it being awarded approval to become the country's first private university- SIM University (UniSIM). The choice of study is wide- students have some 40 academic programmes from four schools- Arts and Social Sciences, Business, Human Development and Social Services and Science and Technology.
"Our education programmes are mostly from our foreign university partners and we have faculty flying in from Australia, US, UK and Switzerland," said Mr. Kwok Cheong Lee, CEO of SIM. SIM has 11 university partners- chief among them the University of London, the Royal Melbourne Institute of Technology, Australia, the University at Buffalo, New York. There's also the University of Sydney, University of Melbourne, University of Wollongong, University of Warwick, whose courses are conducted at SIM. "These courses are actually run by the partner universities. Our philosophy is that we bring the education programme to the student and we provide the campus, provide the support. The degree is awarded by the partner university," Mr Lee added.
"Our partner universities are all traditional universities that have accreditation in their own countries and are subject to all sorts of checks. When they run programmes those too are checked by their accreditation body," he added, responding to a natural student concern about the validity of courses they take.
Website: www.sim.edu.sg
What is clearly evident is that Singapore's education drive strongly supported by key government agencies is attracting more and more foreign students, eager to further their prospects and its undoubted advantages of providing a safe and cosmopolitan environment, cultural diversity and above all, exciting educational prospects at a relatively lower cost make it an attractive choice for students from all over the world.
-Renuka Sadanandan
(The writer was in Singapore on invitation from the Singapore Tourism Board)
---
EEF aims to safeguard student interests
With a vast array of courses to choose from, how does a foreign student ensure that the degree he/she chooses is a recognized one? John Gregory Conceicao, Director, Education Services Division, Singapore Tourism Board responds to questions from The Sunday Times
Q: How can prospective students be sure of the quality of the course they register for? / What are the checks, if any, a foreign student should make to be certain of the validity of the course he/she registers for in Singapore?
The Education Excellence Framework (EEF) aims to safeguard student interests and develop high quality education providers in Singapore. It is a positive step towards enhancing Singapore's reputation as a trusted education hub and ensuring that Singapore remains one of the world's leading education hubs. Aimed at the private education organisations (PEOs) sector, the EEF focuses on three key components: good student protection and welfare practices, organisational excellence and academic excellence.
In 2003, EDB and SPRING launched the Singapore Quality Class for Private Education Organisations (SQC for PEOs) scheme to provide a benchmark for PEOs in business excellence. Currently, there are 57 PEOs which have attained the SQC for PEOs status.
To enhance student protection, the CaseTrust for Education scheme was introduced in 2004. The scheme ensures that all PEOs intending to recruit international students have in place proper systems and practices to look after the welfare and interest of international students in Singapore. To date, we have 322 CaseTrusted PEOs.
PEOs that have obtained both CaseTrust for Education and the SQC-PEO certification enjoy certain privileges, including STB's promotional platforms, fast-track student pass processing by the Immigration authorities and waiver of security deposits for students where required.
To augment the reputation of Singapore's education system, the Ministry of Education (MOE) will be enhancing its regulation of the private education sector. Under the approach, MOE will introduce a new Private Education Act to strengthen the existing registration framework and enforcement provisions; introduce a voluntary quality certification scheme (called "EduTrust") to replace CaseTrust; and establish a Council for Private Education to implement the regulatory framework. These measures will better protect the interest of students and ensure baseline quality while preserving choice.
Q: Does the Ministry of Education guarantee that all private universities operating in Singapore offer properly accredited courses?
According to the Ministry of Education, registration by the Ministry does not represent an endorsement or accreditation of the quality of the programmes being offered at private schools. Private schools' programmes are subject to the test of the market and private school operators are ultimately responsible for the contents of their own courses. Registration by MOE indicates that the Ministry is satisfied that the courses are offered by a bona fide foreign university.
for more info see:
(www.singaporeedu.gov.sg)