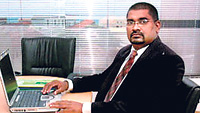 Viraj Pinto Jayawradena
Chairman/ Managing Director
Matrix institute of information Technology (PVT) Ltd, centrally located in Colombo 04 (Bambalapitiya) now offers a wide range of programmes to suit school leavers, non-IT professionals or even IT professionals to gain and further expand their knowledge in Information Communication Technology (ICT).The institution is currently headed by a veteran in the field of IT Education in Sri Lanka, namely Mr.Viraj Pinto Jayawardena, who is the Chairman and Managing Director of the organization.
One of the main courses offered by MATRIX is the British Computer Society (BCS) professional Examinations in IT. The BCS programme enables the candidates to obtain a professional status in the field of IT, further enabling to even proceed with the Masters Qualification locally or abroad. This professional examination consist of three levels, which is equivalent to the three years of a honours degree in IT.BCS which consist of 11 subjects plus the final year project report, where candidates can sit for the examinations twice a year in April and/or October. When asked the Chairman on the benefits of following a programme such as BCS he stated that "BCS, has a distinct advantage of enabling the candidate to complete the entire programme in just 2 years & even more for a cost of less than LKR.220,000", This is mainly due to the very low course fee that we offer to the candidates. The institution was highlighted in the last years BCS convocation when Ms.Shanika Jayawardena recieved the only world prize for Sri Lanka by winning the PROMS-G award offered for IT project Management.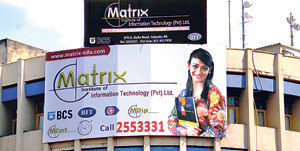 MATRIX Building at Colombo 04
When further questioned Mr.Pinto Jayawardena regarding what is on offer for candidates taking up BCS he stated "for the BCS certificate level we have completed a comprehensive pack of text books issued FREE at Registration, which was even recognized by other course providers abroad. Further we are providing students the CORE module free when they register for 3 optional BCS Diploma Modules, The BCS PGD lecture panel is strengthened even more with more renowned names in the field of IT education joining in with MATRIX".
The Bachelor of information Technology (BIT) offered through the UCSC is an external degree offered by the University of Colombo. The BIT consists of six semesters and completion ensures the candidates a broad knowledge in IT and Management. "BIT, is a competitive examination and the syllabus coverage is very wide enabling candidates to gain a broader knowledge, further the course fee is less than LKR 120,000 and a special 50% discount is offered to all university students "stated The Chairman.
Mr.Pinto Jayawardena also stated that MATRIX has received the largest student intake for this semester one since it's inception in 2006 and congratulated the Academic staff and all others responsible. In general to commence the BIT programme candidates has to complete the selection test, but now the entrance procedures has been further made lenient by including an e-selection test where the candidates can sit for the examination at any given time. In addition a new programme known as FIT (Fundamentals of IT) has been launched by the UCSC enabling students to directly enter to the BIT programme, even without the minimum Advanced Level qualification.
The institute further provides the student a great opportunity, where the students can complete their first two levels of the BCS Professionals examinations namely: the certificate and Diploma levels here in Sri Lanka with MATRIX, and then proceed directly to the United Kingdom (UK) for the final year at the East London College (ELC). "Our students will then get the opportunity not only to study, but also to work in UK, both during their course as well as for two years at the completion of their degree under the "Tier 1, Post-Study Work Scheme". Further it is also possible to continue with their Masters and even with PhD according to their desire "(www.eastlondoncollege.com). Added the Mr. Viraj Pinto Jayawradena.
Further, MATRIX is linked with ICFAI University India, which is one of the most reputed universities for Management and Finance in India, where our students can complete either BCS or even BIT and proceed directly to the Masters in Business Administration (MBA) either in fields of Marketing, Human Resource, Finance or even in Information Technology.
Now, MATRIX also offers a Diploma in ICT (MDIP) for the students after Advanced Level examinations ,which cover areas such as: programming in JAVA, VB.Net, Database such as MYSQL, Ms. SQL Server, computer hardware, different types of Software's, Web Designing and Development and many more. New batches are commencing every week for this Diploma programme. Further MATRIX is now working on connecting with an institution in Malaysia where the students after completing the MATRIX Diploma (MDip) can further proceed to complete a Diploma in Audio Technology or Media Technology, and further complete their final year at Middlesex University in United Kingdom and gain a BSc degree in Computing and Information Systems.
MATRIX also offers several other programmes and some of the popular programmes are: VB.Net with SQL Server, C#.Net with SQL Server, SCJP (Sun Certified java Programmer), ICDL (International Computer Driving License). Finally, the Managing Director stated that "MATRIX will further expand it's horizons in the education sector and will offer the students even more variety of courses to select from in the near future".