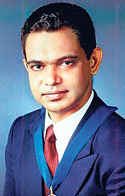 It gives me pleasure in writing this note at the first year celebration of NEXT School of Business. The Chartered Institute of Marketing has, over the last century, evolved into the largest body for professional marketers, with over 60,000 members worldwide. This achievement is largely due to the strong partnerships and networks built up by CIM across the world with tutors and professionals across the world.
CIM Sri Lanka Region has been able to become the largest region outside UK because of the unstinting commitment and the hard work put in by the partners who work with CIM in Sri Lanka to produce quality and professional marketers. Our partnership with NEXT School of Business has been a mutually rewarding one and has seen tremendous success throughout the last year due to their commitment and passion for the profession.
We are very proud of their achievements in such a short period and look forward to working closely with them for achieving even greater heights.
I wish them all the success for the years to come.
Shiraz Latiff
Chairman
The Chartered Institute of Marketing
Sri Lanka Region
12, Pedris Road
Colombo 3
Sri Lanka