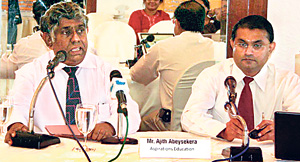 Mr. Ajith Abeysekera, Chairman - Aspirations Education ( Pvt) Ltd and Mr. Lakshman Bandaranayake, Managing Director/ Chief Executive - Vanguard Management Services (Pvt) Ltd, at the Press Conference
Aspirations Education which conducted the first ever English Reality Television game show on ETV in August 2007, has launched The Aspirations Conquest based on a totally different and an innovative concept this year. This season brings greater adventure and the format has been extensively modified to challenge school goers (15 years and above) who will be the leaders of tomorrow. It is a refreshing take on the reality format, where brains are matched up with survival skills. Mixing elements from the television format with the ever popular reality show, Aspirations Conquest will put to test the knowledge, determination and leadership skills of contestants.
With the wide publicity given through school visits and media, the response was very encouraging and a large number of students applied for the aptitude test which was held at the BMICH on 21st September 2008. The applicants benefitted from a session held after the aptitude test and many students claimed that it was a very inspirational session. Ms. Deepamala Abeysekara, Academic Director of Aspirations Education addressed the gathering first and elaborated on the main theme for Aspirations Conquest "How to make use of opportunities to realize your aspirations".
The students also got the opportunity to listen to eminent speakers who were specially invited for the occasion. Dr. Uditha Liyanage, Director and Senior Lecturer of Marketing at PIM, who happened to be the Head of the Panel of judges at Pathbreakers Season 1 reality show last year, delivered the key note address on "What it is to be a Path breaker and the best way to succeed in life by switching over from ability to capability". Mr.Dhananjaya Hettiarachchi, Human Resources Manager of Aeturnum, a leading US based IT solutions company and a champion public speaker and toast master made an interesting speech on how children should reach for their dreams based on his award winning speech "Chasing Butterflies". Mr. Ajith Abeysekara, Chairman of Aspirations Education stressed on the contribution each of us can make to the society we live in, in the process of acquiring our goals in life.
Out of the contestants who sat for the aptitude test, a total of 90 were short listed for the viva, out of which 50 finalists were selected. These 50 students, who will be divided into 5 groups of 10 each, will have the opportunity to contest at this highly competitive reality TV show, conducted initially on a knockout basis to select the best. The show is scheduled to go on air both on ETV and Derana channels from 12th October till end of December 2008. Being an intellectually stimulating show, this sure will be both entertaining and exciting to competitors and viewers. The contestants will be tested on their leadership, team work and analytical skills and will have to explore, discover and showcase their talents in a bid to become the ultimate winner of the fabulous grand prize.
The main sponsor for the Pathbreakers Season 2 is Navitas Group of Institutions, an educational group with their institutions in different countries including Australia, UK and Canada. Well known institutes such as Melbourne Institute of Business and Technology (MIBT), London Institue of Business and Technology (LIBT), Fraser International College (FIC) etc are part of this reputed educational group. Further this reality show is being co sponsored by a number of universities and institutions in Australia, UK, New Zealand, Malaysia and Singapore. Further the Sunday Times (Education Times) and Daily Mirror (Mirror Education) is the print media partners of this programme.
The grand prize will be an all expenses paid tour to Malaysia and Singapore to enable the winner to get an international exposure that is necessary to reach his / her goal. More information about Pathbreakers can be obtained from its official web site, www.pathbreakers.lk.