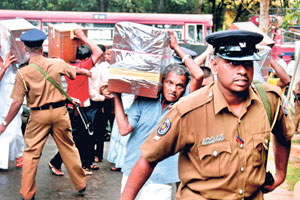 After polling ended yesterday, ballot boxes are seen being brought to the Ratnapura District Secretariat counting centre under heavy police escort. Pic by Gemunu Wellage
Meeting fire with fire douses the poll


Political Column
Dr. Raja Johnpulle, a dyed-in-the-wool supporter of the United National Party (UNP) was watching the ruling United People's Freedom Alliance (UPFA) procession as it meandered past his house in the Anuradhapura town around 3.30 in the afternoon of Wednesday, the 19th
IAEA
More than entertainment
We sing because we love to sing. We sing the music that we like to listen to. We sing together because it's a great opportunity to meet up and socialize with the kids that we grew up with.
X Files Opens

Famous FBI double, Molder and Scully have been summoned to open another X file with the latest sci-fi 'X Files:
LTTE calls in 'reserves' as Security Forces close in

As the armed forces closed in on LTTE strongholds in the north, the rebels are reported to have called in their "reserve" forces, including retired guerrillas and civilians who had been doing odd jobs for them, a government officials claimed.

The elections to the North Central and Sabaragamuwa provinces councils yesterday were generally peaceful and the turnout a relatively high 70 percent but thousands of people complained they were unable to vote because they did not have a valid identity document.

EDITORIAL

PLUS

Abductions go to the wilds
"Please find my baby. If someone has kidnapped him, please return my baby." Remember the plea of the mother of baby Gavish who was kidnapped from Kalubowila Hospital last year?

FINANCIAL TIMES

PBJ steers pre-budget discussions

In spite of the damning, Supreme Court judgement against the Secretary of the Finance Ministry, Dr. P.B Jayasundara who was ordered to pay Rs. 500,000,

When to pick up the shining pebble

It seems that Sri Lankan cricket administration is in for turbulent times. According to a cricket insider, recent comments made by the SLC Interim Committee

The Alagakkonaras

Ibn Batuta had to land in the northern coast of Sri Lanka in 1344 AD, when he was caught in a storm. It is believed that it was to the Jaffna ford that he came.