After weeks of media exposure over a scandal at the National Blood Centre (NBC), its Director Dr. R.M. Bindusara – against whom serious allegations have surfaced -- was this week ordered to be transferred out to facilitate further investigations.
"Dr. Bindusara has been transferred to the Family Health Bureau," Health Ministry Secretary Dr. Athula Kahandaliyanage confirmed to The Sunday Times, just as the interim report of the Health Ministry probe on the NBC blood scandal at Narahenpita was submitted.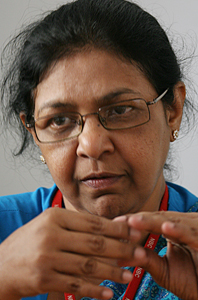 Dr. Bindusara
He said another doctor in the Centre's Donor Section, Dr. M.I.L.A. Nazeer has also been moved to the Angoda Mental Hospital while two storekeepers have been interdicted.
"There is more work to be done by the ministry investigation team as it has to visit the hospital-based blood banks out of Colombo and check the records of the State Pharmaceuticals Corporation which is the procurement agency for the apheresis kits," he said.
The final report from the Investigation and Flying Squad Unit of the ministry is expected soon, The Sunday Times understands, while two more independent top-level probes are also underway by the Auditor-General's Department and the Commission to Investigate Allegations of Bribery or Corruption.
The scandal at the NBC was exposed by The Sunday Times in its report on August 3 headlined 'Whose hands have blood on them?' which referred to serious allegations against the Centre over the use of expired apheresis kits on donors and also critically-ill patients.
The Government Medical Officers' Association reacted to The Sunday Times story calling the crisis at the NBC a "medical emergency" and urging an impartial and quick inquiry while Opposition UNP MP Dr. Jayalath Jayawardena visited the NBC on August 11 and found 44 expired apheresis kits, allegedly damaged, in two rooms very close to its Director's office.
Dr. Jayawardena who had been accompanied, on his request, by top ministry officials including the Director-General of Health Services, Dr. Ajith Mendis, told The Sunday Times that the NBC Director had no explanation on the expired kits which had been damaged. "Has anyone earned commissions from human blood?" he asked.
Apheresis kits are used along with hi-tech machines to harvest only platelets, as opposed to 'whole blood' donation from donors.
The platelets are then matched and infused to very ill cancer, dengue or heart patients. They are also used to extract infected plasma from ICU patients suffering from certain diseases.