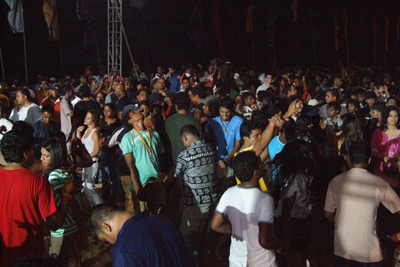 Participants at the Hikkaduwa beach fest
Hikkaduwa's economy was given a boost with 10,000 mostly locals spending over Rs 1 million during the 5-day Hikkaduwa Beach Fest.
The festival which coincided with the 15th SAARC Summit in Colombo ran from July 30 – August 3, as part of the domestic tourist project, where the mandate was to promote domestic tourism, Managing Director of Sri Lanka Tourism (SLT) Promotions Bureau Dileep Mudadeniya told The Sunday Times FT.
The event attracted about 2,500 tourists from India and Maldives apart from the many Sri Lankans who gathered in Hikkaduwa.
"This year's event was intended as a domestic event but according to the 4-year plan for tourism, it is expected that the foreign to local guest ratio will be 60 to 40," Mr. Mudadeniya said. "Hotels experienced 100% occupancy during these five days," he went on, adding that this is the first time this has happened in 20 years.
According to him some establishments which were closed down in the recent past due to adverse economic conditions also re-opened to cater to the demand for accommodation, food and beverages created during the festival. President of the Hikkaduwa Hoteliers Association Siri Gunewardene also speaking to The Sunday Times FT echoed Mr. Mudadeniya adding that initially they thought the timing of the festival, which was organized during the off season, was off. "Ultimately it was a good thing because if it was during the peak season there would not have been enough accommodation for all," he said. He also added that this event gave the town good exposure, even in the international media as there were Indian journalists present.
The idea behind the festival according to the SLT Promotions Bureau chief is to build a brand around Hikkaduwa that will be known globally. The promotion of this event involved new methods such as blogs and social networking sites such as Facebook, along with the forms of advertising. This will be an annual event in Hikkaduwa while the industry will probably organize events on a smaller scale throughout the rest of the year, sources said. .