The Beijing Olympics 2008 now in progress is occasion for us to summon up a 60 year old remembrance of the late Duncan White, our 400 metres hurdler who won a silver medal at the XIVth Olympiad in London in 1948.
The Games were being held for the first time after the Second World War, and our country (Ceylon, as it was known then) had just won Independence from British rule. But the average spectator at the Games, it is said, asked where Ceylon was as Duncan stood on the victory dais and watched with tears of joy his little known country's new Lion flag being hoisted. Now decades later, Sri Lanka is by all accounts a well-known country not only for tea, tourism (and Tiger terrorism) but also since 1996 for sport when Arjuna Ranatunga and his team put our country on the world map with the Cricket World Cup and Susanthika Jayasinghe with a Bronze medal at the Sydney Olympics in 2000. These sportsmen and women of our time have done what Duncan did in style to transform our island nation into an international competitor in the world of sport.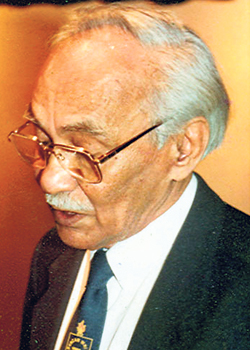 Duncan White
When Duncan reached the finish line with a time of 51.8 seconds also beating the existing Olympic records by two seconds there was only a handful of Ceylonese to cheer and applaud. Among them were Pam Fernando of golf fame (then 22-year-old Pam de Vos) and her two friends Shirani Weerasinghe and June Somasunderam. Another Sri Lankan who was there to savour "moments of incredible joy", as he says, when Duncan White became the first Sri Lankan to win an Olympic medal for his country, was the illustrious Sir Christopher Ondaatje. Our cricketers and athletes today have magnificent stadiums filled to capacity where they perform and the whole country watching and supporting them on TV. Media coverage of sporting events and everything else is instant, wide and intense, and video footage shown from time to time keep the feats of our sportsmen and women alive for all time.
The national recognition and plaudits for them are limitless. For Duncan White there was none of that. When he returned home by sea, it was his alma mater Trinity College that accorded him a simple but warm welcome at the Colombo jetty. It was only a year before Duncan died in England where he made his home, that his country recognised his worth by awarding him the woefully belated national honour of Desha- manya. We saw again the tears in Duncan when after the ceremony he told the TV reporter covering the occasion, "I should have been given this honour 50 years ago." Our cricketers were given that accolade as soon as they returned from the World Cup victory not to speak of other rewards ranging from gifts of prime suburban land to duty free car permits and countless other forms of financial bounty.
Not for Duncan were there limousines, luxury houses, sponsorships, and advertising contracts. He asked, but to no avail, for a house to live in somewhere close to Colombo if he were to return home to help in athletics training for our youths. Duncan's days were days when sportsmen were paupers. At a sportsmeet in Colombo during the war to which he travelled from Trincomalee, where he was stationed, he ran the 120 yards hurdles in a pair of tennis shoes to beat a former Olympic athlete Group Captain Finlay of the Royal Air Force.
Returning from Loughborough after the London Olympics, Duncan bought his own car, a green Morris Minor convertible with a loan. With Angela his newly wedded wife he occupied a ramshackle "bungalow" in the old military camp at Maharagama, which had become the Government Training College, where he took up the poorly paid Physical Education lecturer's post.
He gave us excellent lectures in the Theory of Physical Education and trained us in PT and sports. He coached a superb quartet of our fellow students in the 400 metres relay -Romulus Goonetilleka, Nandasena Labutale, Balendra and David.They emerged champions in this event at the AAA meet of that time. Labutale, now gone to the Great Beyond, made a name for himself as a hurdler too during and after his Maharagama days. That was in 1951 and we who were teacher trainees at that time felt exceedingly proud and deeply honoured to have an Olympic medalist and Trinity Lion as our PE lecturer. Duncan, however, was the humblest, the most unassuming, the most cheerful and friendliest of the lecturers we had in those glorious days of our youth. He died on July 3, 1998. May his soul rest in peace!