The JVP's Matara district parliamentarian, Premasiri Manage, was arrested in Rambukkana yesterday evening over an assault case, police spokesman Ranjith Gunasekara said, but the party charged that it was an act of revenge and that the MP was beaten up by a police officer.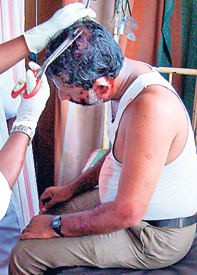 JVP MP Subasinghe being treated at the Polonnaruwa hospital
JVP Propaganda Secretary Vijitha Herath said Mr. Manage was ordered to get off from his vehicle at the Rambukkana junction and arrested.
"When he asked the Rambukkna OIC what was wrong, the officer had demanded that the MP should come to the police station. When Mr. Manage asked the OIC for the reason, the officer had said he had a score to settle with him. He had then locked the gate of the police station and beat up the MP," Mr. Herath alleged.
Mr. Herath said the JVP believed the MP was arrested because he had condemned the OIC for not doing anything to prevent UPFA chief ministerial candidate Maheepala Herath's thugs from attacking the JVP's Rambukkana office while the police looked on.
When The Sunday Times spoke to Mr. Manage while being detained at the police station, he said the complaint against him was a politically-motivated conspiracy. He said he wasn't even aware that a complaint had been lodged against him. Police were recording his statement until around midnight.
Menawhile JVP MP for Polonnaurwa district S.K. Subasinghe and JVP candidate Sarath Kumara were critically injured when they were attacked allegedly by UPFA supporters at Galthambarawa yesterday.
The JVP said the mob was led by a senior government minister's brother. The two JVP members are admitted to Polonnaruwa hospital.