In his policy statement to the Eastern Provincial Council (EPC), the recently appointed Eastern Province Chief Minister, Sivanesathurai Chandrakanthan, alias Pilleyan, said he intended to recruit a large number of Tamil and Muslim persons to join the province's police force.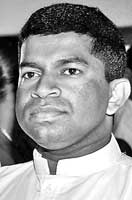 Chief Minister, Sivanesathurai Chandrakanthan
"It is our policy that every police station in the province should be served by police officers belonging to the Sinhalese, Tamil and Muslim communities," the Chief Minister said.He pledged that under his leadership in the East, no bias would prevail in the maintenance of law and order. He said the police in the province should carry out their duties irrespective of ethnic distinctions in the population.
The Chief Minister also said that an Ethnic Harmony Secretariat would be set up with the aim of strengthening inter-community relationships among the people of the province. He described this as a "great challenge".
He said a panel of experts would be appointed to prepare a report on the alienation of state land in the province in the past, and that future policy on land alienation would be formulated on the basis of this report.
The Chief Minister said the Eastern Province would require a large amount of funds in order to implement various programmes over the next 18 months, and appealed to the international community to come forward to help the people of the province.