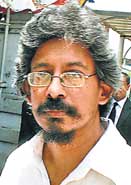 Friday's picture of Tissainayagam when he was produced before Colombo's Chief Magistrate.
Senior journalist and Sunday Times freelance columnist J.S. Tissainayagam goes into his 100th day in detention by the Terrorism Investigations Department today without formal charges being filed against him.
On Friday, he was produced before Colombo's Chief Magistrate N. Hettiarachchi who ordered that he be further detained by the TID.
Mr. Tissainayagam's lawyer M. A Sumanthiran said the journalist was being held in wrongful custody. He claimed that under emergency regulations a detainee had to be moved to prisons custody after 90 days.
The TID objected to Mr. Tissainayagam and other detainees being moved to prison custody citing Emergency Regulation 21 (2) of 2005.
Senior State Counsel Amendra Seneviratne said he needed time to consider these regulations, as he felt there was a contradiction between Regulation 19 and Regulation 21. E. Thavarasa, Counsel for V. Jasiharan and two others being held in detention, said the Detention Order of regulation 19 was not in question but it was the place of detention that was in question.
He said he was only questioning the place of detention and that Regulation 21 (2) clearly stated that if a person was detained for more than 90 days, the magistrate should order that the person was so detained in a prison established under the Prisons Ordinance.
He maintained that his clients were being held in wrongful custody. Subsequently, all counsel for the defence moved for bail for their clients.The State Counsel informed court that they needed time to consider the appeal.
Mr. Jasiharan in a personal statement to court alleged he had been tortured while in detention. The case would be taken up again on June 23.