By Ameen Izzadeen
As the sun's first rays at 5.55 a.m. today gently stroked this blessed land troubled by three decades of war, wiping out darkness and assuring a better tomorrow, senior journalist Tissainayagam wakes up to the horrible reality that he has spent 100 days in detention in a cell at the Terrorism Investigations Department.
For 100 long days and terrible sleepless nights — and who knows how many more days and nights — Tissa has been a terror suspect. If he is a terrorist, then those who arrested him surely must have had a lead by now to proceed with and charge him with the crime he is alleged to have committed. But so far, neither the judiciary nor the people who value freedom — the freedom of thought, the freedom of expression and the freedom of association — have been told why Tissa is being held at the TID.
When asked, the authorities simply say there is evidence. If there is evidence, then charge him in a court of law, so that he could defend himself. During his 100 days of detention, he has been interrogated by not only officials of the TID, but also by others.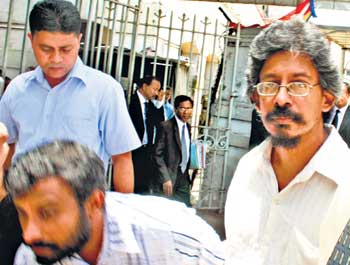 He is not the Tissa we last saw. Tissainayagam (right) leaving Colombo's Magistrate's Court on Friday after he was produced before it for the first time since his arrest on March 7. With him was N. Jasiharan, the owner of the printing press where Tissa had his web magazine office
At the time of his arrest, he was contributing a regular column to The Sunday Times. One of his last columns dealt with the abominable practice of child recruitment, especially in government-controlled east. Is it this article that made him a terror suspect? One never knows. Ten days ago, the authorities obtained a court order to extend Tissa's detention by another 90 days, bringing disappointment and dejection to all those who know and respect Tissa.
As he marked his 100th day in a TID cell, Tissa, as he is fondly called by friends and family members, looks frail. He has lost weight and his hair is overgrown while a disorderly beard makes a sorry sight to behold. His wife, Ronnate, a former journalist, is virtually fighting a lone battle to free Tissa. She reminds me of the courageous character in Maniratnam's Roja, an Indian film, where the wife of a soldier, taken prisoner by Kashmiri separatists, fights her own battle to free her husband, after the army gives up hopes of freeing him. As a member of the journalistic fraternity, I feel we have not done enough to win freedom for Tissa. There were few, if any, protests or poster campaigns and only occasional statements.
Jayaprakash Tissainayagam, a Tamil by birth and English media journalist, was arrested on March 7 by TID sleuths, a day after they took into custody the owner of a printing press where Tissa had an office. It was from this office that Tissa handled his web magazine — outreachsl.com, a website that gave Sri Lankan news and analyses. I was a regular visitor to the site which was funded by a German non-governmental organisation, FLICT (Facilitating Local Initiative for Conflict Transformation). The objectives of FLICT are to strengthen Sri Lankan civil society to play a more effective and influential role in contributing towards a lasting and positive peace.
I found the website informative and not pro-LTTE. The tool I employed to analyse his website was freedom of expression — not blind patriotism. The authorities now say that Tissa is being held not for his writings, though I understand he has been questioned as to who his journalistic sources were and who funded his website.
Prisoner of conscience
I believe that in terms of the definition of the phrase 'prisoner of conscience', Tissa is more a prisoner of conscience than a terror suspect. According to Amnesty International, the term "prisoner of conscience" refers to anyone imprisoned because of his race, religion, colour, language, sexual orientation, or belief, so long as he has not used or advocated violence.
Tissa never condoned terrorism or separatism. Neither do his writings exhort Tamils to take to violence. His vision was to make this country a land of peace and justice where people irrespective of caste, creed, race or religion could live in harmony as Sri Lankans.
An acknowledged intellectual, Tissa, a Peradeniya University's political science graduate with a master's degree from New Delhi's Jawaharlal Nehru University, often has a stimulating counterpoint. Whenever I met him, I made sure that I spent some time with him over a cup of tea to discuss topics ranging from constitutional matters and crises in politics to the media scene and movies.
A quiet human rights activist for the past two decades, Tissa, through his writings, had highlighted the plight of the Sinhala youth, during the 1988-90 JVP insurrection. When I heard the shocking news on March 7 that Tissa had been arrested, the question that flashed across my mind was, "Will he be tortured?"
Ministers may defend the country's case before the United Nations Human Rights Council in Geneva, saying that since Sri Lanka has been a signatory to the anti-torture convention, the abominable practice has long been abandoned. But interrogators world over give scant respect for a country's commitment to anti-torture conventions. Even Americans practise waterboarding — a sophisticated form of torture — to elicit information.
But in Tissa's case, I gather that he was treated courteously by his interrogators. I thank those TID gentlemen. But spending 100 days in virtual solitary confinement amidst uncertainty as to how many more days one has to spend within highly fortified walls — the witnesses to many tales of woe, like that of Tissa's — is in itself torture.
In March, he challenged his detention by petitioning the Supreme Court. The next hearing of the case is in September — a long way off for a detainee for whom every minute seems a year in a TID cell.
Tissa's 100-day milestone comes in the wake of a US Supreme Court ruling that cheered up human rights campaigners. The ruling gave terror suspects the right to go to federal courts to seek their release from indefinite detention at Guantanamo Bay in Cuba.
In a way Tissa should count himself lucky for not ending up like Dharmaratnam Sivaram, whose body was found near the parliament complex a day after he was abducted —or like Keith Noyahr, who was abducted and assaulted mercilessly by a gang recently.
It's true that Sri Lanka is in the midst of a war that is sapping all its human and economic resources. The country's future lies in bringing the war to an early end. Tissa worked within this premise. But his approach was different. Tissa, the peacelover he is, preferred dialogue as a means to bring about a just solution to the national question.
The continuous detention of Tissa without being charged splashes a black mark on the collective conscience of Sri Lanka, a country nurtured by a more-than-2,500-year civilization and the teachings of the Buddha and other great religious leaders and thinkers.
Free him or charge him with the offence he is alleged to have committed is the cry of this colleague as Tissa waits for the day when he could sing the song of freedom, like a bird in the sky.
IFJ: Tissa a tool in a political game
The following is a statement issued by the International Federation of Journalists (IFJ) on the continuous detention of J.S. Tissainayagam. The statement was issued two days before Tissainayagam was produced before the Colombo magistrate's court for the first time.
The International Federation of Journalists (IFJ) is extremely disturbed by a new 90-day extension of a detention order against journalist J.S. Tissainayagam, who has been held without charge in Sri Lanka since his arrest on March 8, 2008.
Tissainayagam is being detained under the Emergency Regulations (2005) Act. The latest detention order was issued by the Terrorist Investigation Division (TID) of the Sri Lankan police force on June 5.
TID has refused to provide details of Tissainayagam's arrest except to say, initially, that he was being held under emergency regulations for 30 days.
The IFJ joins its affiliate, the Free Media Movement (FMM), in demanding that the authorities account for the continuing detention of Tissainayagam without charge or release him immediately.
Tissainayagam, a Tamil and the editor of outreachsl.com website, was arrested following the similar detention of E-Kwality Printers owner N. Jesiharan and his wife Valarmathy, who share the same office building.
Three others associated with the website - reporter Wijesingha, visual editor Udayan, and cameraman Ranga - were also taken in for questioning and held incommunicado for several days before being released without charge on March 19.
Despite filing a Fundamental Rights case to the Supreme Court on March 19 on the grounds of his medical condition and denial of legal rights, Tissainayagam has been granted limited access to family, legal representation and information pertaining to his case.
TID officials are reported to have repeatedly ignored his scheduled appointments to appear before a Magistrate's Court to finalise a charge against him, as stipulated by the Emergency Regulations (2005) Act.
"There is an obvious failure by the Sri Lankan police to provide and protect Tissainayagam's basic human rights to medical attention, personal safety and freedom from unexplained detention," IFJ Asia-Pacific said.
"Enough time has passed for proper judicial process to have been implemented. The detention of Tissainayagam for 177 days without charge is deplorable. It points to authorities using a journalist as a tool for political game-playing."
Visit related story Tissa: 100 days in TID detention