Fresh tenders have been ordered by the Sports Minister for insurance cover for the national cricket team's upcoming tour of India following allegations by Sri Lanka Insurance that proper procedures were not adhered to by the Cricket Board when requesting a quotation for the tour from the company.
The quotation is believed to involve around two billion rupees.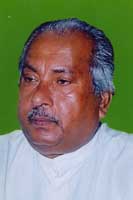 Gamini Lokuge
Confirming that fresh tenders were called for last Tuesday, Minister Gamini Lokuge said a tender board has now been appointed to take a decision on the quotations.
Sports Ministry Secretary S. Liyanagama said that such a step was taken, as sufficient publicity was not given earlier to the tender. "There are many reputed insurance companies but sufficient publicity was not given the last time around," he said.
Sri Lanka Insurance claimed that although the Cricket Board requested the company to give a quotation for group travel cover and medical and personal accident cover for the Sri Lanka cricket team, for the upcoming Indian series, the company refused to do so as it was not satisfied with the tender procedure.
"Sri Lanka Cricket did not have a proper tender procedure. Proper guidelines were not being followed. A committee to evaluate the quotations for insurance was not appointed and a clear start date or deadline was not given," a senior officer of Sri Lanka Insurance said adding that the tender procedure as specified by the Government was not followed.
He claimed that on a previous tour although Sri Lanka Insurance presented the most favourable terms in relation to insurance cover, Sri Lanka Cricket had opted for another insurance company allegedly due to underhand collaboration with insurance brokers.
Sri Lanka Cricket CEO Duleep Mendis declined to comment on the matter. Mr. Sanjeewa Ranatunga who claims he is the coordinator involved in evaluating the quotations said it is the Cricket Board which makes decisions on procedures and made no further comment.