By Rohan Abeywardena
Sri Lankan Malays, though few in numbers have made their mark in various fields in this country, especially in sports, the police and the security services. There is now one Malay unsung hero, a technical expert who is quietly revolutionizing farming in the backwoods of Tambuttegama, Anuradhapura.
He has turned out a unique multi-grain thresher made almost entirely of local components. The machine, runs on power supplied by a humble hand tractor and has been approved by the FAO and the Department of Agriculture because of its low cost, superiority and simplicity of construction when compared with expensive imported machines.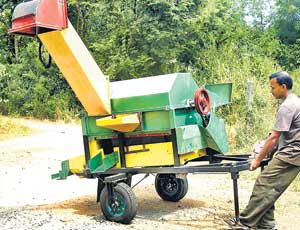 One person can move the machine. Pix by Saman Kariyawasam
There has been a vast leap in harvesting practices since the time the tsunami tragedy struck the country on Boxing Day 2004, with the introduction of efficient mechanized threshers imported from Thailand by CIC and Hayleys from about that time. In fact since those machines came, they are popularly known and marketed as tsunami machines. The costs have been prohibitive (presently about Rs. 800,000 per machine) and such machines needed to be powered by four wheeled tractors to run them. The result has been that often many of these machines (out of about 9,000 sold in this country so far) have been purchased by the notorious village mudalali at whose mercy most of our farmers are, having to depend on him for everything from credit at unconscionable interest rates to the sale of their harvest for a song.
Early last week we trekked to Tambuttegama in the company of retired gentleman farmer and ex- Philippines based International Rice Research Institute scientist Ranjith Mulleriyawa, who was keen to introduce Tuan Miskin Ismahoon and his affordable invention at Rs. 150,000 per unit to the country and especially to our farmers.
A product of the German Technical School at Katubedda, Mr. Ismahoon had served the Department of Agriculture for 13 years as a mechanical instructor on farm machinery. During this period he had been trained in Germany on agricultural machinery and he had also done his London City and Guilds Diploma.
A native of Ratnapura he had struck out on his own in 1986 after leaving the Department that year. Having submitted a project report to the Mahaweli Authority to start a workshop to manufacture agricultural machinery and implements needed by Mahaweli farmers, he received a piece of land from the Authority at Tambuttegama to launch his venture Mahaweli Agro Mech with his wife and son by his side.
His is no one-fluke-invention inventor either, for he also manufactures custom built seeders, dryers, paddy transplanters, weeders etc according to local requirements.
So why is it that an inventor whose star product, the Mahaweli Agro Multi Thresher has been purchased by the FAO for its projects in Sri Lanka is yet unable to popularize it among farmers everywhere? Mr. Ismahoon lamented that he is unable to make any headway, despite having sold 25 units to FAO after a competitive testing process, involving even an imported thresher, due to unavailability of affordable credit.
"I am fed up of local banks. They ask for so much security, which we simply do not have", he lamented adding "only Seylan gave us a loan of Rs.200,000/- for working capital at 19% interest, but that too was too high for us. When that 19% is added to our machine cost it goes beyond the affordability of poor farmers".
So far he has sold a total of 75 of these multi threshers since obtaining a patent for it in 2005, by word of mouth, primarily to farmers in and around Tambuttegama.
Due to a lack of an affordable credit facility for his venture and for his customers, his output of this portable and low cost operating thresher/cleaner is limited to just two machines per month.
He accomplishes this task with four employees. During a field test done by the FAO in March 2005 in Mannar with rival brands, this machine had come on top scoring zero weed seeds and zero other crop seeds in the paddy it had threshed. In the area of damaged seeds the machine had damaged only three per 500 grammes of paddy threshed. In comparison an imported combine harvester had 30 damaged seeds per 500 grammes.
Instead of relying entirely on Mr. Ismahoon's accounts and the test reports of the FAO and the Department of Agriculture, we also met two farmers who are happily operating the Agro Mech Multi Thresher.
W.M Abeyratne (52) of Warawewa, Rajangana told us that he bought his machine two years ago and recovered his entire investment in two harvests. As the machine is portable he, his wife and son are able to attend to the entire harvest of his plot of two acres of paddy and when he harvests corn from his high land plot that too is threshed by the same machine simply by changing its drum.
Mr. Abeyratna, a native of the region had come to purchase a second thresher exclusively for threshing corn, when we met him.
Sumith Prasanna of Solipura, Rajangana, who is from a settler family here also, thanked the machine for their being able to manage the harvesting and threshing of their 2.5 acre plot of paddy without outside labour. His family comprising his mother, father and wife has been doing all the work since they bought the machine four years ago for Rs. 85,000.
With the tendency of young people to head to towns and cities in search of factory jobs, the available labour is quite expensive even here. These farmers complain that the labour they find costs at least Rs.500/- per day and when hired workers are not satisfied with that, the farmer has to even provide meals, tea and even cigarettes especially in times of emergency like the freak rain storms experienced early this year. But with the Agro Mech thresher/cleaner they manage without extra hands.
According to Mr. Prasanna the operating costs of the machine too is highly economical, as in a single operation it not only threshes, but also winnows and cleans. The cost of attending to their two acre plot is less than Rs. 2000, where as the imported tsunami costs more than Rs. 6,000 to hire for the same amount of work and in addition it requires at least eight labourers.
They both said that Agro Mech had made a machine, which is extremely farmer friendly because of the simplicity of its operation and Mr. Ismahoon is one expert who listens to problems they encounter in handling such machines. It was also a welcome change as all "mahattayaas", who come there always lecture to them but never have the patience to listen to what they have to say. Once the threshing is over it can simply be towed away by the same hand tractor.
The farmers also complained that the imported machine causes a great deal of contamination by mixing seeds from different fields as the machine is moved from field to field. But Hayley's Agri Products Division Manager Aruna Maliyapathirana said that the problem would not arise if the operator runs the machine a few minutes more after threshing a load of paddy before it begins work on another paddy stock of a different variety.
He said there was steady demand for their tsunami machines since they were introduced in 2005 selling at the rate of about 500 per season. CIC's Director Agri Business Varuna Maduwanarachchi said they had sold about 5,200 tsunami machines since they first introduced the product in 2004. They were first tested in their farms and then marketed locally.
He said it was advisable to clean the machine after operating in one field before it is moved to another field in order to avoid contamination of one variety of rice with another and specially if the farmer is interested in obtaining seed paddy.
In their own seed farms, Mr. Maduwanarachchi said they were using much more advanced combine harvesters, which harvests, threshes and cleans in one operation. The cost of such a machine was between Rs.6.5 million and Rs.7 million.