Heavy rains and earthslips yesterday cut off parts of the Colombo-Avisawella road at Hanwella, disrupted traffic and damaged pipelines supplying water to Colombo and several other areas, officials said.
A 70-foot long and 30-foot wide part of the road was washed away at Pahala Hanwella, about half a kilometre from the town. At the same spot the main water supply line to Colombo was breached.
Water Board Assistant General Manager Ranjith Perera said water to Colombo would be supplied temporarily through alternate pipelines including Ambathale.
Water supply was completely stopped in several areas such as Kahena, Hanwella, Jalthara, Kaduwela and Athurugiriya yesterday morning. However, supplies were due to be restored last evening. Mr. Perera said reconstruction work on the pipeline had begun but it would take about five days to be completed.
Water Board General Manager Lal Premnath appealed to the public to use water sparingly so that they could ensure an uninterrupted supply of water over the next few days.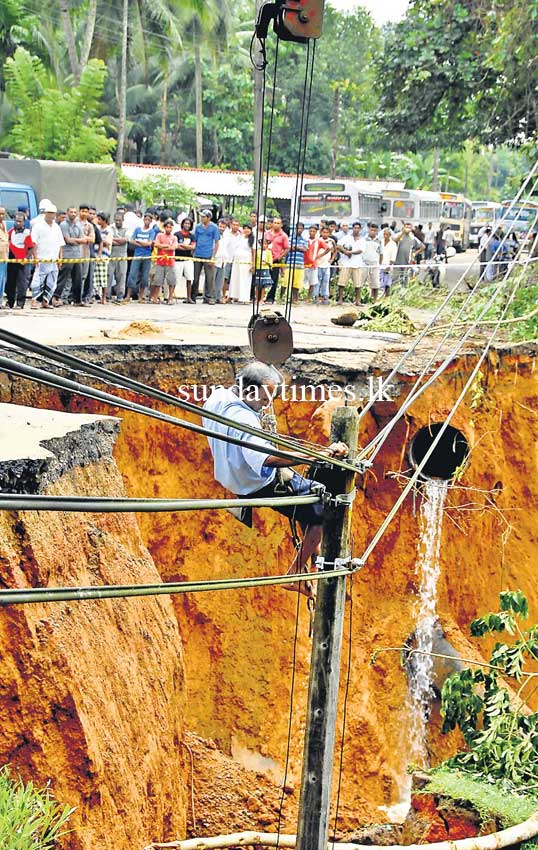 A part of the Low Level Road at Pahala Hanwella turned into a huge crater yesterday after several days of heavy rain and earthslips. An electricity worker is seen trying to repair the power lines while water flows out of the broken pipeline. Pic by Sanka Widanagama
He said Water Board officials would meet today to discuss measures to be taken to deal with the problem. Mr. Premnath said Dehiwela, Mount Lavinia, Kotte, Maharagama and Boralasgamuwa areas were affected by water cuts from 4 .p.m to 8 p.m.
He said four water pipelines were passing through the area and sections of two got washed away while they closed down the other two.
Road Development Authority General Manager R. W. R. Premasiri said it would take about two weeks for repair works on the road to be completed and they were doing their best to open at least one lane within five days.
"The public can use alternate routes. However congestion in the area is likely at least until one lane is opened. We plan to build a retaining wall using boulders as a permanent solution. But sand mining in this area is a major problem and it needs to be addressed," he said.
The area's Civil Committee leader, Milton Edirisinghe said that they had been observing the erosion of the area for the past two days, but the authorities did not take action on their complaints.
"There is no proper drainage system on the main road from Pahala Hanwella to Hanwella and as a result of this water was collecting at one location," Mr. Edirisinghe said. He said two other areas, Ambulgama and Ranala, were facing a similar situation. "If swift action is not taken, these too will be washed away," he said.
Hanwella police Inspector S. D. K. K. Senanayake said the situation had arisen due to heavy rains in the past few days.