The Committee to Protect Journalists (CPJ) has written to President Mahinda Rajapaksa expressing alarm at the Government's policies toward journalists who write critically about the conflict and called on him to reverse the direction in which the Government has turned, and restore to journalists the right to freely report without fear or intimidation.
"We recognize that your Government is involved in an ongoing conflict with Tamil secessionists. But the security of the nation will not be enhanced by policies that curtail one of the most basic rights guaranteed in Article 14 of Sri Lanka's Constitution—the right to freedom of expression," the CPJ letter sent on Friday which was also released to the media stated.
It added that there is an increase in harassment, intimidation, and detention of reporters, many of whom are columnists in senior positions with well-established careers and Police have failed to investigate threats to journalists who cover elections or expose alleged corruption or misdeeds.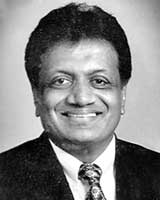 Hudson
"Those who wish to harass, harm, or even kill journalists can operate with relative impunity in Sri Lanka," the letter said. The letter sent by Joel Simon Executive Director also said:
"Based on our research, we have concluded that your Government is stifling news reporting that it finds inconvenient precisely because those reports attempt to accurately reflect the ebb and flow of such a war. Suppressing journalists will neither alter the course of the conflict nor generate more public support for it."
Of particular concern is the fact that the Defence Ministry has repeatedly used its website to denounce and even condemn journalists, often individually by name and at other times as a group, for their reporting on the conflict and the activities of the ministry and the armed forces. In recent weeks it has accused eight media outlets of traitorous behaviour—an incredibly strong term to use during a time of such intense conflict, and one clearly meant to intimidate, given that no charges have been brought against any of the organizations. The eight named on the ministry's website were Sirasa TV, The Sunday Leader, The Morning Leader, Irudina (the Sinhala-language Sunday weekly of The Sunday Leader group), the Daily Mirror, The Sunday Times, and the websites Lanka Dissent and Lanka e-news. The ministry's May 31 posting was exceptionally chilling. It clearly implies that anyone reporting negative news about the military or the ministry's activities is guilty of treachery or worse:
'Whoever attempts to reduce the public support to the military by making false allegations and directing baseless criticism at armed forces personnel is supporting the terrorist organization that continuously murder citizens of Sri Lanka. The Ministry will continue to expose these traitors and their sinister motives and does not consider such exposure as a threat to media freedom. Those who commit such treachery should identify themselves with the LTTE rather than showing themselves as crusaders of Media Freedom.'
Our concerns grew deeper after a front-page story in the June 3 issue of the Daily Mirror. The story quoted Defence spokesman Keheliya Rambukwella as saying the views expressed on the website were the ministry's own and did not reflect the view of the Government. Certainly, your ministries answer to you, and their official statements reflect your Government's policies. Mr. Rambukwella's statement is even more disconcerting given that Defence Secretary Gotabhaya Rajapaksa is your brother. And as Minister of Defence, Public Security, Law and Order, you must also bear responsibility for such statements.
Beyond these overt attacks from the Defence Ministry, there are many recent incidents that have caused such great concern for us:
After 90 days in detention, senior journalist J.S. Tissainayagam was detained for another three months without charges, on June 6. Mr. Tissainayagam writes political opinion, particularly on matters relating to the Tamil ethnic minority, for the mainstram Sunday Times and ran a website, Outreach, which your Government has claimed is maintained "with the financial backing of the LTTE"—the Liberation Tigers of Tamil Eelam. He has been held since March 7 by the Terrorist Investigation Division under the Emergency Regulations of 2005. To date he has not been charged with a crime. Several Sri Lankan media reports say he is being held in solitary confinement.
The killing of popular Sirasa television reporter Paranirupasingam Devakumar has gone unexplained. Mr. Devakumar was gunned down in the Jaffna peninsula on May 15, 2008, in an area that is under military control. The unprosecuted and, as far as we can determine, apparently uninvestigated death of one of the few independent reporters still working in that area of conflict has left a bitter scar not only in the journalists' community but in Sri Lanka as a whole.
The overnight abduction on May 22-23 and vicious beating of Keith Noyahr, a deputy editor at the English-language weekly The Nation, remains largely uninvestigated, according to several of our Sri Lankan colleagues. We have not been able to communicate with Mr. Noyahr since the incident, but suspect that he was so severely abused because of his writing on military matters. Our colleagues in Sri Lanka tell us they fear he was attacked because of a piece he wrote on irregularities in national awards in the Army.
We are also greatly concerned by the ongoing threats directed toward Iqbal Athas, the consultant editor/defence correspondent of The Sunday Times, who has stopped writing his weekly defence column as a result. He has told CPJ that a pro-government radio station has—on an almost daily basis—broadcast slanderous and vituperative statements against him, in addition to attacks on the Defence Ministry's website. Mr. Athas is the 1994 winner of CPJ's International Press Freedom Award, and has been a longtime CPJ associate. For such a widely respected figure to cease his work in journalism because of threats is a travesty. The personal security detail provided to Mr. Athas by the Government was withdrawn last August. He tells us he continues to be followed by people unknown to him, and is greatly concerned that on June 3, on both the state-run Rupavahini national television network and the state-owned Independent Television Network, Defence Secretary Rajapaksa singled out Mr. Athas by name for his reporting for The Sunday Times.
Also of concern to CPJ are the attacks on Muslim journalists covering elections in the East, as far as we have been able to determine, have gone uninvestigated by local police. According to Sri Lankan media reports, the most recent attack came on June 5 against M.A.C. Jalees, who was assaulted by supporters of the ruling political party who took away his camera. Journalists T.L.M. Joufer Khan, M.S.M. Noordeen, and Moulavi S.M.M. Musthapha, were either threatened or assaulted in the same area.
Call to end witch-hunt of media
Editors, media activists and trade unionists met yesterday and resolved to launch several campaigns aimed at bringing an end to threats faced by media personnel.
The meeting was organized by five organizations — the Free Media Movement (FMM), the Sri Lanka Working Journalists' Association (SLWJA), the Muslim Media Forum (MMF) and the Sri Lanka Tamil Journalists' Association (SLTJA). Among measures decided were the possible recourse to courts against websites and groups that have been on a witch-hunt against journalists branding them as unpatriotic and a campaign to create awareness among the public on the threats to the media.
FMM condemns Hudson's outburst
The Free Media Movement (FMM) has strongly condemned the remarks made by Hudson Samarasinghe; the newly appointed chairperson of the SLBC who called for the death of senior journalist Poddala Jayantha and said this is a frightening situation for independent journalists and journalism.
The FMM also called upon all democratic forces to roundly condemn Hudson Samarasinghe's loathsome comments and strengthen independent journalism in Sri Lanka.
Excerpts of the statement issued on June 12.
"This outrageous incitement to murder and violence by Hudson Samarasinghe was made on June 8 during a breakfast radio talk show he participated in called 'Isira.' Poddala Jayantha is the General Secretary of the Sri Lanka Working Journalists Association (SLWJA).
Attacking an interview given by Poddala Jayantha on war reporting to a weekend newspaper, Hudson Samarasinghe is on public record as saying,
'Poddala Jayantha, what do you know about the media, you rascal? Do not sell the war for a living, you b.....d. Will you provide for the children after bombs go off? Remember one thing. The people will do what is necessary. Do not be a traitor.' Speaking in the same manner, Hudson Samarasinghe also attacked BBC Sinhala services Colombo reporter Elmo Fernando. He said,'I tell BBC do not poke your fingers into our affairs. I am telling you decisively, remember this is the last warning, this is the last time I tell you…'
It is sadly evident that Hudson Samarasinghe harbours the certifiably deranged belief that he is in a position to issue dire warnings against independent media and openly, with total impunity, call for the murder of journalists.
This language of the Rajapaksa administration's apparatchiks and their behaviour reminds us of Radio Mille Collines in Rwanda, which laid the groundwork for genocide and large-scale violence. It is incredible how the Rajapaksa regime countenances and indeed, ostensibly safeguards and promotes those who speak and act in such a manner as this. All those who are not part of the jingoism of the Government are now terrorists and pariahs, fit to be exterminated. This is fascism, not democracy!
Hudson Samarasinghe has for some time now used this programme to level vicious attacks on journalists, civil society leaders and trade unionists. By appointing him to head a State media institution, the Rajapaksa administration demonstrates an utter disregard for media freedom. In attempting to even suggest that Hudson Samarasinghe has a right to say what he wants to, the Rajapaksa administration significantly aids the growth of hate speech and is directly culpable in violence directed against journalists.