The Army and the Police are conducting comprehensive search operations in the Nuwara Eliya region in a bid to rid the area of LTTE operatives who are using the area as a transit point for smuggling weapons and explosives to different parts of the island.
Search operations have been intensified after a massive cache of explosives was discovered last Wednesday in Mahagastota, Nuwara Eliya, by the Terrorist Investigations Division (TID). The TID is on the look-out for a key LTTE agent identified as "Gandhi", who is believed to be co-ordinating LTTE operations in the Central province.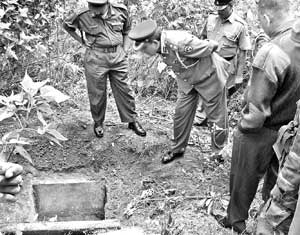 Police inspecting the site where they found a massive cache of explosives
A Deputy Inspector General of Police, who spoke to The Sunday Times on condition of anonymity, said the police were combing areas believed to contain caches of explosives, based on information provided by LTTE suspects in custody.
"We have interrogated several of the suspects and are in the process of identifying more areas where explosives might be hidden," the officer said. "We have seen an increase in LTTE activity in Nuwara Eliya. We are acting on the intelligence we are receiving and trying to stop these explosives from going to other parts of the country."
Wednesday's discovery followed information provided by a Christian priest who was arrested in April at a checkpoint in Saliyapura. TID officers recovered eight packets of C4 explosives, each weighing 2 kgs; 300 kgs of TNT; two T56 rifles; 40 detonators and a large quantity of T56 ammunition.
The suspect, Pastor Arumugam Nagulan of Mannar, admitted to TID officers that he had lent his van to transport more than 1,000 kilos of explosives to various parts of the country, including Kandy, Matale and Nuwara Eliya. Ostensibly, the van was being used as a passenger vehicle, largely for elderly persons. It is understood that the explosives were intended to be used against top officials and other VIPs.According to TID officers, more than 20 persons have been arrested in connection with the arms network, including the principal and deputy principal of a school in Hatton.
In April, the TID busted a major arms network in the Central Province when they uncovered claymore mines, suicide kits, time bombs and T 56 rifles in Ambakote and Digana. Under interrogation, suspects have revealed that similar caches of arms are lying hidden in Matale and Thalawakele.
Last week, three hand grenades were recovered from a house in Thalawakele, Nuwara Eliya.
The Nuwara Eliya police have so far arrested seven suspects in connection with last Wednesday's discovery of explosives.