Five-star hotels in the city of Colombo will not be open to private bookings during the week of the 15th South Asian Association for Regional Coorperation (SAARC) summit, which will be held from July 27 to August 3.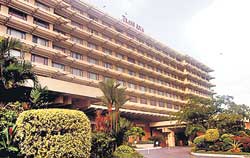 Trans Asia Hotel
At the request of the Ministry of Foreign Affairs and defence authorities, city hotels will not be accepting bookings for rooms, weddings and other functions during the week that Sri Lanka hosts the SAARC summit. Hotels that have already accepted bookings for those days have been asked to make cancellations.
City Hotels Association president M. Shanthikumar said hotels were scrambling to make alternative arrangements, following the government request. Many hotels were facing a logistics nightmare involving cancelled bookings, postponed events and transferred guests.
"Most Sri Lankan weddings are timed to fit into auspicious days and hours, so the option of postponing is not acceptable, and this has resulted in a very complicated situation," Mr. Shanthikumar said. It is understood that city hotels have been directed to accept only delegates attending the SAARC summit, and no other guests. No private hotel functions will be permitted during the summit.
"This is very short notice," Mr Shanthikumar said. "We appreciate that such measures are necessary for the security of the delegates, but we have been taken by surprise. All this confusion could have been avoided if we had been notified in time."
He said the City Hotels Association hoped to discuss the matter with the Ministry of Tourism and the Ministry of Foreign Affairs. According to the assistant general manager of one leading hotel, Colombo hotels depended heavily on functions such as weddings and banquets, and that the summit week would a period of much lost revenue. Moreover, cancelling already booked events was causing great inconvenience to hotels and their clientele.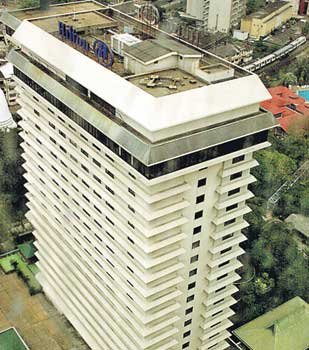 Colombo Hilton
"Hotels should have been told as soon as the decision was made to shift the summit venue from Kandy to Colombo," Mr. Shanthikumar said. Couples that had made wedding arrangements months ago, or even longer than that, are fretting over the change of plans.
Speaking to The Sunday Times, a bride-to-be described the headache she was experiencing.
"The hotel we had booked informed us this month that it would be best if we postponed our wedding. That means a two-week delay," she said. "We have already sent out the wedding cards. Now we'll have to tell everyone that we're holding the wedding before the summit. All this is most upsetting," she said.
A Foreign Ministry official said about 1,000 persons, including heads of states, delegates and other guests, would be attending the summit. If they could all be accommodated in a single venue, one that had all the conference facilities and VVIP guest accommodation facilities necessary for such an international event, there would be no problem.
"SAARC is the only international summit we are holding [this year], and we are taking all the security and logistical aspects into consideration to make sure it will be a success," the official said. "We will be having discussions with hoteliers in order to minimise the inconvenience."