PHIs' fruitful Food Safety Week as errant vendors fall foul
View(s):

Public Health Inspectors (PHI) cracked down on 4,887 food outlets and food processing centres found to be unhygienic, during Food Safety Week, said Sri Lanka PHIs Association President, Upul Rohana. The PHIs inspected 38,291 food outlets islandwide where food was processed and distributed in an unhygienic manner.

"Through the raids, we were able to grade 18,456 food outlets which did not go through the process before," Mr Rohana said. 

He said that food outlets and processing centers were graded by the Health Ministry as 'A' (places with 75 point and above), 'B' (50-75 points), 'C' (25-50 points) and 'D' (0-25 points).

"We consider outlets graded 'A' and 'B' to be very good and satisfactory respectively, those graded 'C' and 'D' as not satisfactory and bad respectively. During the raids we were able to detect 4,887 'C' and 'D' grade food outlets, out of which 2,859 places were given notices, as they did not meet the criteria set by the Health Ministry," the president said.
"Some of the criteria set for processing or distributing food in a place are that it doesn't have a toilet close by, should have a ceiling and a good supply of running water," he said.

The association is also taking action against 2,697 food outlets which were previously warned against selling expired items and failed to stop the practice. During this week, 1,258 of these cases were taken up in courts and fines totaling nearly seven million rupees collected.

He explained that most cases were reported from the Western Province.  "What we witnessed during the raids was that not even 15% of the food centres maintained medical reports of food-handling staff, certifying that they were free of contagious diseases," he added.

Meanwhile, the Kompannaweediya police arrested 42 individuals for selling rotten fruits. Police conducted two separate raids last month in and around the Pettah to detect the sale of rotten fruits to unsuspecting customers. According to police, the fruits mostly sold this way were oranges, apples, plums, pomegranate and avocado.

"These fruits are imported wholesale into Sri Lanka. Those in good condition are sold at reputable fruit stalls, while those going bad, are sold to street venders at a very low price," said IP Dammika Senarathne. He said that an apple which usually sells at around Rs. 50 is given to these vendors for as low as Rs. 5, or even less.

These vendors arrange the fruits in their stalls with the bad ones concealed. Customers are allowed to choose the fruits they want. "Then they play a trick. Packaging bags are left in such a place that when the vendor bends to get a bag, he switches some spoilt fruits for the selected fruits and hands the bag to the customer," he explained.

The police have taken 1,600 kg of rotten fruits into custody. They were later handed over to the PHIs to be destroyed. The accused were fined Rs. 4,500 each in the first raid and Rs. 3,000 each in the second and were given three-month jail terms suspended for five years.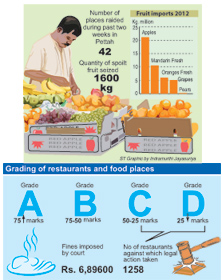 In a separate raid conducted by the Consumer Affairs Authority on October 21 and 22, six vendors were produced before courts for allegedly selling rotten fruits.
"We conducted raids in the Colombo and Nugegoda areas. Around 130 fruit stalls were checked through this process. We will continue with our raids in the future, to ensure food safety in the country," said CAA Deputy Director Asela Bandara.
comments powered by

Disqus