Minister Weerawansa grants house to inventor student
View(s):

A 20-year old Sri Lankan student who won an award at the Intel International Science and Engineering Fair in Phoenix, Arizona, United States for his invention and has a star named after him by the National Aeronautics and Space Administration (NASA) was this week provided a house by the Ministry of Engineering Services, Housing and Common Amenities.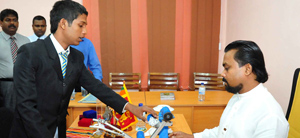 On a directive of Minister Wimal Weerawansa, K.P. Dinesh Anuruddha Chitrananda Kapuge, hailing from a rural village in Galenbindunuwewa in Anuradhapura was gifted a house worth two million rupees under the 'Jana Sevana' programme conducted by the Ministry.
The house is on a 15-perch block of land close to Anuradhapura town. The minister said he hoped to dicusse with President Mahinda Rajapaksa about awarding him a scholarship.
A tractor like machine that was invented by Dinesh was awarded first place in the electrical engineering category.
comments powered by

Disqus