Colombo-Katunayake Expressway rakes in Rs 19.5 m in 5 days
View(s):

The Colombo-Katunayake Expressway (CKE) which connects the Bandaranaike International Airport to Colombo city, earned Rs 19.5 million within five days of its commissioning last Sunday, with 71,129 vehicles using the Expressway, the Road Development Authority said.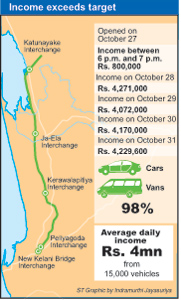 The CKE opened to vehicles from 6.00 pm on Sunday, October 27, and by midnight 8,500 vehicles had traversed it, for an income of Rs 2.3 million.  On Monday (28), with the deployment of luxury buses, 15,615 vehicles generated an income of Rs 4.2 million for the CKE.
On Tuesday (29) 14,900 used the CKE, for an income of Rs 4 million.  On Thursday (30) and Friday (31), 29,804 vehicles used the CKE, generating a total income of Rs 8.3 million.  It is estimated that the CKE generates Rs 4 million per day from 15,000 vehicles, while the Southern Expressway earns Rs 3 million with 10,000 vehicles per day.
However, small shops, handicraft outlets and tea boutiques complain that the increased used of the CKE has severely affected their businesses.
comments powered by

Disqus