106 Cabinet, Project, Deputy Ministers out of 161 UPFA MPs
View(s):

With the recent appointment of nine Deputy Ministers, the total number of Cabinet Ministers, Project Ministers and Deputy Ministers in Government has reached 106, with only 55 remaining as MPs in the 161-member strong ruling United People Freedom Alliance (UPFA).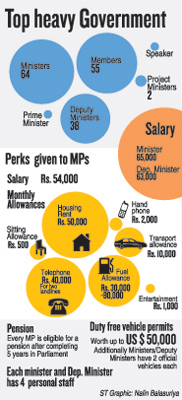 The latest set of nine MPs who were elevated to Deputy Ministers, were those who gained highest number of preferential votes at the last parliamentary elections, as well as some who had entered Parliament after serving in Provincial Councils.
The additional appointments will cost the State coffers several millions more, as Deputy Ministers, they are entitled to salary hikes, additional perks such as telephone, entertainment and fuel allowances as well as a personal staff of four paid for by the government, and would enjoy free fuel and telephone facilities
Each Minister or Deputy Minister is entitled to a Private Secretary, a Coordinating Secretary, a Media Secretary and a Public Relations Officer. Each member of the personal staff of a Minister and Deputy Minister, in addition to their monthly salaries, is entitled to a fuel allowance of 218 litres per month, phone allowance of Rs. 5,000 per month, as well as office equipment. A Minister's monthly salary is Rs 65,000, while that of a Deputy Minister is Rs 63,500, but they are entitled to higher allowances as well as additional security. 
A Minister and a Deputy Minister have charges of up to Rs 20,000 paid for two official telephones, another Rs 20,000 for two residential telephones, and Rs 10,000 as mobile phone charges. Ministers and Deputy Ministers also entitled to free fuel with those from outside the Western Province entitled to 750 litres of petrol per month, while those within the Western Province entitled to 600 litres. For diesel vehicles, the fuel entitlement is less by about 100 litres.
The number of personnel on the security staff as well as the number of vehicles used by both Ministers and Deputy Ministers are not publicised for security reasons.
At present, the cost incurred for each MP is Rs 200,000, which includes a salary of around Rs 54,000, but there are many more allowances for fuel, housing, phones etc.
comments powered by

Disqus