On the right path to minimising cerebral accidents
Kumudini Hettiarachchi reports
Stroke Unit opened at Ragama Teaching Hospital.
View(s):
It was a simple but vital event, in a country with an ageing population and an increasing incidence of non-communicable diseases. With Health Minister Maithripala Sirisena registering a 57-year-old Montessori teacher as the first patient to the just-opened Stroke Unit of the Colombo North Teaching Hospital, Ragama, on Tuesday, the message is clear. Sri Lanka is heading in the right direction.
When Montessori teacher, Helen Perera, is settled in, at the six-bed Stroke Unit on October 29 which is World Stroke Day, there is satisfaction on the faces of the eminent gathering including Health Ministry officials, top Neurologists and representatives of the National Stroke Association of Sri Lanka (NSASL). 
Helen is in hospital, after suffering a stroke, her relative tells the Sunday Times, explaining that when she woke up in the morning there had been numbness and lifelessness on the left side of her body. Her mouth had also gone to a side.
Neurologists and the NSASL have been urging and working towards the setting up of Stroke Units, while pointing out that the best way to deal with stroke patients is a multidisciplinary-team approach.
Their view is that the setting up of Stroke Units does not need huge funds and resources and in most hospitals would require only a rearrangement of space and resources. The benefits to stroke victims, however, would be enormous.This is why some space in the University Medical Unit on the second floor of the new building of the Colombo North Teaching Hospital had been re-allocated for the Stroke Unit.
At a meeting in the hospital auditorium soon after the Stroke Unit opening, the chilling statistics with regard to stroke are pointed out by NSASL President and Consultant Neurologist Dr. Udaya Ranawaka.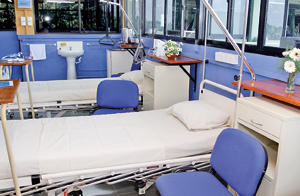 In a group of six, one would suffer a stroke during his/her lifetime, warns Dr. Ranawaka who is also a Senior Lecturer of the Faculty of Medicine, University of Kelaniya, and currently President of the Ceylon College of Physicians. As if on cue to indicate the seriousness of stroke which would throw a pall of gloom not only over the victim but also his/her whole family, an electrical glitch plunges the auditorium into darkness for a few seconds.
Like the power in the auditorium is restored quickly, Dr. Ranawaka assures that without being deterred by the huge problem of stroke, there is a concerted effort to tackle it on all fronts.  The Sunday Times understands that Stroke Unit management is simple and inexpensive treatment, under a multidisciplinary team in a dedicated area providing organized care.
It is also the most cost-effective way of handling strokes for the best outcome.Sri Lanka, unfortunately has only about five Stroke Units for a population of 20 million, although the ideal would be a Stroke Unit in every main hospital or at least one in each district, it is understood.
So the setting up of the Stroke Unit at the North Colombo Teaching Hospital is a clear indication that Sri Lanka is on the right pathway.
Lend a hand to fight stroke
Anyone who wishes to help combat the stroke-threat may send their contributions to Account No: 003010499372 at the Hatton National Bank PlC, Head Office Branch with the Account Name: National Stroke Association of Sri Lanka. For more information you could please write to NSASL, No. 6, Wijerama Mawatha, Colombo 7; Phone: 00-94-11-2682630 or e-mail: nationalstroke@gmail.com
Launch of booklet on stroke
It was at the same function that another important event took place – the launch of a slim booklet titled, 'Stroke Facts – Are You at Risk?' Published in all three languages, Sinhala, Tamil and English, this booklet by the National Stroke Association of Sri Lanka will spread more awareness not only about stroke but also how to prevent them.
Colourful and with many sketches, this easy-to-read-and understand booklet is a fount of information. While being a tool for the reader to check his/her stroke risk and how to minimise it, the booklet also gives a pointer where to seek stroke-care services.
comments powered by

Disqus