Mega mining mystery
By Namini Wijedasa
View(s):
Canadian firm purchasing shares and getting exploration licences transferred. Is it legal?
Who are the players exploiting Sri Lanka's graphite mining resources?
A Canadian mining firm has entered into an agreement with a Sri Lankan company to acquire the local outfit's exclusive exploration licences for a reported 113 graphite mining grids in the country. But a lack of transparency surrounding the deal highlights an urgent need to examine procedures followed in Sri Lanka's lucrative mining industry. 
Torch River Resources Ltd, a public quoted company, said in a statement earlier this month that it has an "arms length non-binding purchase and transfer agreement" with a local company called Han Tal Graphite (Pvt) Ltd. It claimed Han Tal had exclusive licences to explore and develop its wholly owned 113km2 lump graphite mining claims in south-west Sri Lanka.
A mining grid is typically one square kilometre in extent. An exploration licence costs Rs. 5,000 per grid, payable to the Geological Survey and Mines Bureau (GSMB). Global demand for graphite has risen sharply in recent years because of new industrial uses. For instance, it is a vital component in lithium-ion batteries used in hybrid cars.
Sri Lanka is the only country in the world that produces super grade, lump and chippy dust graphite containing between 95 and 99 percent pure carbon. With the Government having opened up the mining sector to overseas investment, interest has peaked. 
Agents of foreign companies present themselves at the GSMB every week, some aspiring to sell exploration and other technology to the government. The Canadians, Australians and Chinese have expressed the most interest, officials said. It is not unusual, therefore, for Torch River to have joined the queue.
Torch and Han Tal plan to move quickly towards a definitive Mining Claims Purchase and Transfer Agreement, the statement asserted. Upon closing the transaction, Torch River will pay Han Tal a sum of CDN$ 300,000 (more than Rs. 37.5 million) as well as issue 5,000,000 shares to the local company. These shares have an aggregate value of CDN$ 500,000 (more than Rs. 62.6 million). 
A further tranche of CDN$ 750,000 (more than Rs. 94 million) and 7,500,000 shares will be issued on commencement of full production, the terms of which are to be defined in the definitive agreement. Both companies are now conducting their respective due diligence.
The communiqué was issued from the Calgary headquarters of Torch River, but at the Sri Lankan end, there was silence from Han Tal. This is in sharp contrast to some recent, widely publicised, graphite mining exploration partnerships. For instance, the Board of Investment (BOI) signed an agreement with Sarcon Development (Pvt) Ltd., for a graphite mining and processing project. The company's main investor is the Curacao-based Plumbago Refining Corporation B.V.
Separately, Australian listed minerals exporter Bora Bora Resources Ltd announced that it owns 75 percent of the local company Plumbago Lanka (Pvt) Ltd which was set up to explore for graphite. They have already started airborne electromagnetic exploration.
Some industry experts—such as Dulip Jayawardena, a geologist and one-time director of the Geological Survey Department—debate the legal validity of these activities. They ask, for instance, whether the requisite environmental clearances have been secured; whether approvals of the Ministry of Environment and Renewable Resources (and not just the BOI and GSMB) were obtained; whether the law allows for a situation where, through the purchase of shares in a local company, exploration licences can be "transferred" to a foreign firm, etcetera.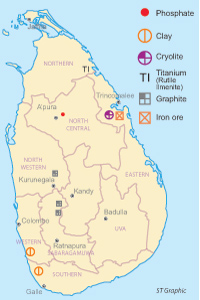 But, for what it's worth, the names of the Sri Lankan directors of these ventures are publicly known and questions can be asked of them. Where Han Tal is concerned, even that information is missing. When the Sunday Times inquired from the GSMB about the deal, its Director General B. A. Peiris said he, too, had seen it in the press. BOI officials confirmed they have no record of Han Tal or Torch River. 
And even as late as Friday, the Ministry of Environment and Renewable Resources was itself making inquiries about this "mystery" company. On the face of it, therefore, permits have been given to an obscure entity that the Ministry, the BOI or senior officials of the GSMB claim to know nothing about.
Lower rung officials of the Bureau were cagey when asked for information. They revealed, however, that Han Tal did not have exploration licences for 113 mining grids. It had one exploration licence for just five mining grids. 
All this reticence could be because the deal is yet in its early stages. But the management of Han Tal does seem to have gone to extraordinary lengths to cover its tracks. The company is registered to a residence, which the Sunday Times saw, in a housing scheme at Divulapitiya, Boralesgamuwa. At least two other companies were recently registered to the same address—G.I.R. Investments (Pvt) Ltd., and Graphon Mining Resources (Pvt) Ltd.
The Sunday Times checked Han Tal's company registration details. It was incorporated on June 3, 2013 and has one director named Wanniarachchi Priyantha Abeywardena. Its sole shareholder is Graphon Mining Resources (Pvt) Ltd. 
Upon insistence, higher authorities showed the Sunday Times a licence application form submitted by a representative of Han Tal. The company seal bears only its name. The agent who has signed the form on behalf of Han Tal has not provided his full name or designation in print; and his signature is comprised of only his five-letter first name, without his surname. In its statement, Torch River states that, "The Han claims have been described by the Sri Lankan Geological Survey and Mining Bureau (GSMB) as comprising some of the best graphite areas in the country." Is this the manner in which the GSMB dishes out exploration licences for the country's valuable, non-renewable mineral resources?
Also interesting is the reaction of Torch River when asked via email for a name and number of their Sri Lankan partner, on the grounds that there was no information available locally. Laurie McCarney, Director Corporate Communications of Torch River replied that a "Jos Simon" was the contact person. His email address was given as jsimson@tavistock.co.uk. 
The Sunday Times insisted on knowing the contact details of a Sri Lankan official as the company was registered here. Ms. McCarney was also asked to verify that Jos Simon was connected to Han Tal. She replied: "Please feel free to contact Jos at the email I provided. I personally do not have any contact information for him. If I'm able to reach our CEO this weekend and he has this info to pass along, as well as answers to your other questions, I will get it to you as soon as I can."
Jos Simon never responded to our email. But Ms. McCarney wrote back: "Han Tal is not interested in speaking with Press right now, sorry, so please refrain from any further contact to this company." Torch River did not answer any further questions on Han Tal.
Meanwhile, well-placed, authoritative sources told the Sunday Times that the company nominees acting on behalf of Han Tal at the GSMB were the same people who represented at least two other companies at the Bureau, one of which is M. R. L. Graphite (Pvt) Ltd.
The registered office of M.R.L. Graphite is "Level 33, West Tower, Echelon Square, World Trade Centre, Colombo 01". This address is shared also by SupremeSat, which describes itself as Sri Lanka's first and only satellite operator.  The landline telephone number provided to the GSMB by the Han Tal representative is the same number listed on the website of the Supreme Group, which counts SupremeSat among its five known companies.
The Sunday Times confirmed through calls to this landline that the Han Tal agent does work out of there. On one occasion, our call was transferred but he did not come to the phone. His mobile phone was answered by a woman who said he was not available. On a second occasion, the operator said he was abroad. She took down our contact number; he did not call back. 
But when contacted, Supreme Group Chief Executive Officer Vijith Peiris said they had no connection with Han Tal. Asked whether the above representative works for them, he replied, "Yes, as a consultant, not exclusive".
Authoritative sources said the same agent also claims to work for IJS Global Lanka (Pvt) Ltd. The head of this company is R.M. Manivannan—Chairman of the Supreme Group. 
What we did discover is that, between 2011 and 2013, several other companies were incorporated and registered to the Supreme Group's World Trade Centre head office address. They include V.V.M. Lanka Minerals (Ltd) and, of course, M.R.L. Graphite. Mr. Peiris said these companies were "not really ours" and that they were formed to "assist known people" with "logistics, consultancy, etc."
Industry experts interviewed by the Sunday Times could not decipher why the Han Tal players have chosen anonymity. They strongly questioned the ethics of this and said it could point to the existence of a business whereby exploration licences are obtained, inflated in value and sold to foreign companies—a sort of "flipping". 
Others speculated whether Han Tal was a front for a person or group of persons deemed ineligible under the Mining and Minerals Act to secure licences, including Members of Parliament, Provincial Councils and local authorities. Or could business interests who wished to mask the degree of their involvement in the mining industry be involved?
Behind a veil of secrecy, the possibilities are endless. The question is whether Sri Lanka can afford such covertness in the mining sector.
NSW's Commission against Corruption report on ELs applicable to Lanka too
Australia has a booming mining industry. Last week, the Independent Commission against Corruption (ICAC) in New South Wales (NSW) released a report called "Reducing the Opportunities and Incentives for Corruption in the State's Management of Coal Resources".
The report dealt extensively with the subject of exploration licences (ELs). Many of the points it raised have consonance with the situation in Sri Lanka's mining industry. The Commission found that, while ELs represent a transfer of assets worth tens or hundreds of millions of dollars from the State to private hands, the arrangements for the release of the resource and allocation of ELs are lacking many basic principles of good governance.
The report held that the policy and regulatory environment in NSW for the release and allocation of coal ELs is conducive to corruption. Decision-making is characterised by weak processes and not framed within the government's wider strategic goals. Decisions are not transparent. There is only a weak mechanism to prevent licence holders from continually renewing ELs. 
The Commission says the auctions method should be preferred approach to the allocation of the State's coal resources, to replace the ad hoc processes followed hitherto. The Treasury should oversee the design of the auction process, it states.
The renewal processes of ELs should be replaced by an exponentially escalating lease rent to allow commercial decisions to be made in an environment of certainty and to remove the incentive to repeatedly renew ELs without progressing to mining.
comments powered by

Disqus