Gambling and bloodlust: Police raid cock-fighting pit
By Augustine Fernando
View(s):
The barbaric blood sport of cockfighting –a fight to the death between two roosters bred solely for this purpose– is a fairly common, though illegal sport in the country.  Hundreds of spectators baying like hounds crowd these illegal 'sporting arenas' while innocent birds are unleashed on each other to satisfy the bloodlust of the onlookers.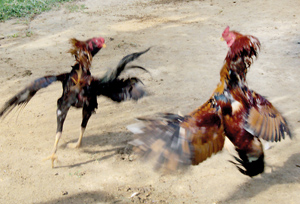 Cockfighting is not only illegal, it is also an extreme form of cruelty where two cock birds –specially trained for the purpose– tear each other to pieces until one or the other falls down dead. A recent raid carried out by the Wennappuwa police revealed this abhorrent 'sport' is part and parcel of high stake gambling and is commonplace in north-western areas, with gambling kingpins and businessmen from Kuliyapitiya, Negombo, Wennappuwa and Ja-ela involved.
Last week, a team from the Wennappuwa police, led by Chief Inspector Wasantha Kumara raided a cock fighting pit, as the event was in progress at an abandoned coconut cultivation in Borelessa, in Lunuwila. "Organisers of the blood sport plan these events in great detail, with lookouts placed at strategic spots, and well-planned escape routes in place.
"However we were able to deceive them by making the raid appear to be a search for illicit liquor dens", he said 
"Once we entered the cock-fighting arena, we were able to take into custody a number of owners of game cocks as well as big-time gamblers."
The Sunday Times learned while police did arrest a number of participants, several others were able to escape. Among those who arrested were leading businessmen in the area.  According to the police if not for their timely intervention a number of birds would have died in the brutal sport and around Rs. 2.5 million would have changed hands.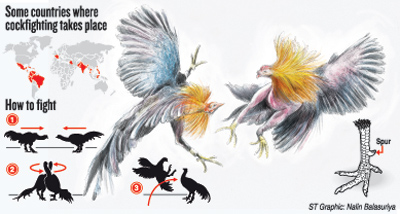 Police also took into custody several three wheelers, a van and a lorry used to transport gamblers as well as the fighting birds.
According to police sources, the gamecocks are no ordinary birds. An untrained, fully grown rooster costs between Rs.3,500 – Rs.5,000.
The rooster is then trained for a period of around one year. During this time it is fed nourishing food such as milk bread, corn, fresh greens and beef liver. Its legs and claws are regularly massaged. According to police cock-fighting is now not limited to village betting spots alone, but takes place at tourist hotels in these areas as well.
The raid was directed by SP P. Saliya de Silva of the Chilaw police and ASP D.D.S. Sooriyarachchi of the Wennappuwa police.
comments powered by

Disqus