NDB in rapid expansion – 77th branch opened in Nuwera Eliya
View(s):

NDB opened its latest branch amidst the peaks of NuwaraEliya, offering a wide array of financial services to the people of the area. With the opening of this branch, NDB's network now extends to 77 branches across the island.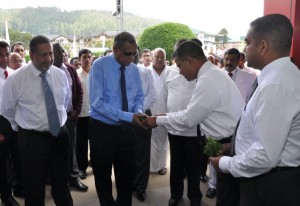 The picturesque city of NuweraEliya lies atop the central hills bustling with energy and exuberance. Today, NuweraEliya has made its mark the world over as a producer of world renowned Ceylon tea and rare spices. NuweraEliya's charm as a tourist attraction and its unique climate for the cultivation of fresh fruit and vegetables is a trademark of its own. The bustling economy of the town is nourished by the farming community together with the industrialists and investors of the area.NDBopened its doors in NuweraEliya bringing a wealth of financial experience, innovative banking products and commercial business acumen to help develop and meet the diverse financial needs of the people of NuweraEliya.
Through NDBsnewest Branch, the aspiring Small and Medium scale entrepreneurs in NuweraEliya will have access to customised SME Banking solutions coupled with effective entrepreneurial education and advisory services. Some of the SME Banking services that will be offered include; Long -Term Loans on concessionary interest rates, Short-Term Working Capital Loans, Supplier Finance facilities, Importer/ Exporter funding facilities as well as Distributor Finance facilities.
NDB will also focus on developing the micro entrepreneurs and cottage industrialists in the region through its livelihood development scheme 'DiviAruna'; which promotes financial inclusion for grass-root level enterprises in a bid to develop and upgrade them towards the SME sector. The Bank laid an initial step towards this long term endeavour in the region with the distribution of DiviAruna Micro Finance Loan Schemes to several deservingfamilies at a special ceremony held subsequent to the unveiling of the new branch.
The Branch is located at No. 50/2, Siva Complex, Lawson Street, NuwaraEliyaand will be open from Monday to Friday from 9 am to 6 pm offering the full range of services until late evening. The branch will also be open from 9am to 1pm on Saturdays for added convenience. Further details on
comments powered by

Disqus