Of dragon ships and tales of old
View(s):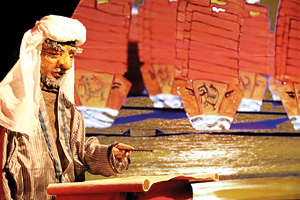 Though you may not know it, you've already heard of the famous Chinese admiral and explorer Zheng He. He is said to be the inspiration for Sinbad the sailor, a moniker believed to have sprung from his birth name Ma Sanbao. Though he was real enough, Zheng He has attained legendary status: his gorgeous dragon ships were enormous, some having up to 9 masts, and 300 of them with red sails proclaimed the power of the Chinese Emperor and his admiral. Zheng He's voyages took him from Indonesia, India and the Arabic coast to Africa – almost 100 years before Christopher Columbus set off to America.
"We had the idea of writing a visual theatre play about Zheng He during one of our tours in China, in 2009," Karin Schäfer, artistic director of The Karin Schäfer Figuren Theater told the Mirror Magazine. 'Zheng He – when the dragon ships came', which Karin produced with Peter Hauptmann will be one among several being performed in Sri Lanka as part of the Colombo International Theatre Festival (March 29). While Christopher Columbus is known by every European child, most explorers from other continents remain unknown. Noting that Zheng He's travels were very important in terms of the exchange of goods and knowledge (he is said to have brought giraffes and zebras from Africa back home), Karin says there's a local connection too– Zheng He set sail on his first expedition between 1405–1407 from Sri Lanka.
Karin believes they've succeeded in bringing to life the incredibly large ships of the Chinese fleet by using different mediums: "We try to find new ways of telling stories and expressing emotions so that we can find the best possible tool fitting to the image we have in mind. We experimented a lot with marionettes, masks, hand- or human-sized puppets, animations, short films and visuals."
The story is told through the encounters with locals that Zheng He encounters as he travels the world. In the performance, each of them exchanges something with Zheng He, communicating in their native tongue – a scholar from Arabia who exchanges scientific knowledge with the Chinese expedition; an African fisherman who helps bring wild animals, including a giraffe, onto the dragon ships; a businesswoman from Siam who knows the economic reasons behind the Chinese expedition. "Although the people don't speak the same language, they manage to understand each other and communicate – that is the role of Ma Huan, the main protagonist of the play, who is the spokesman of Zheng He and remains a mediator between the different cultures," explains Karin.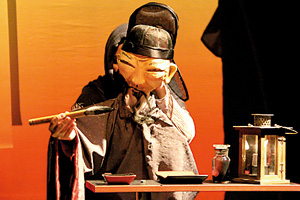 Born and raised in Vienna, Karin studied puppetry in Barcelon and then worked in Spain for several years before returning to Austria in 1993 where she founded the Karin Schäfer Figuren Theater in Vienna. Her partner Peter comes from a very different background having studied biology, philology and literature at the University of Vienna, he spent several years as an environmental educator and trainer for socio-cultural animation in Spain and Austria.
Completing their team is Gernot Ebenlechner, whose sound design for the play integrates the authentic traditional instruments of the different countries to modern sounds. 'Zheng He – when the dragon ships came' which premiered in Vienna in 2010 has since been performed in Turkey, Italy, Spain, Germany and China and was awarded a Stella in 2011 – which Karin describes as the Austrian 'Oscar'. The play won for Theatre for Young Audiences in the category Exceptional Scenery/Visual Design and has also won the Award for exceptional Stage Design in May 2012 at the UNIMA World Congress in Chengdu. Now, Colombo is their next stop. "We are now very excited to come to Sri Lanka and are looking forward to enjoying a great festival 2013!" says Karin.
Follow @timesonlinelk
comments powered by

Disqus