Sri Lanka to participate World Ecotourism Conference in Nairobi
View(s):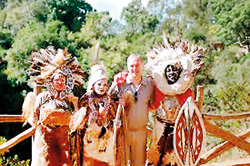 Ecotourism and Sustainable Tourism Conference hosted by the The International Ecotourism Society (TIES) will be held from 24th to 27th September, 2013, in Nairobi, Kenya.
This unique annual international Ecotourism Conference which is to be held in Kenya for the 7th successive year brings advance sustainability goals for the tourism industry, offering invaluable learning and networking opportunities. ESTC is also the leading international meeting place where innovative minds gather to discuss ideas that inspire a change.
Sri Lanka Ecotourism Foundation (SLEF), the affiliated body in Sri Lanka is invited to participate in this Ecotourism and Sustainable Tourism Conference in Kenya.
The ESTC will be hosted by Kenya Tourist Board and Regional Partners supported by International Tourism Partners such as UNWTO on board as an official partner and Convention for Biological Diversity (CBD), UNEP, GIZ etc.
ESTC will bring over 500 participants and tourism professional from 45 countries. Advance policies and practices benefitting businesses and communities, the ESTC helps reinforce the roles of tourism in building a more sustainable future.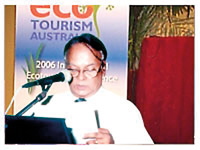 As a pioneering ecotourism destination in the Asia-pacific Region, Sri Lanka offers wealth of examples, stories, and lessons that will inspire tourism stake holders from around the world, and TIES believes that opportunity to collaborate with Sri Lanka Tourism and its industry partners will bring a lasting impact on the world wide efforts strengthening of sustainable practices of the global tourism industry.
Opportunities available for the tour operators, hoteliers, ecolodge owners, nature and adventure tour operators from Sri Lanka who wish to show case their products to the international delegates for ESTC 2013.
As a request made by the TIES to Madubhani Perera, Director / Marketing, Sri Lanka Tourism Promotion Bureau, she has already made arrangements to circulate info on ESTC-2013 to travel trade in Sri Lanka through SLITO, THASL and ASMET
Palitha Gurusinghe, President, Sri Lanka Ecotourism Foundation (SLEF) who is also a Board Member of The International Ecotourism Society (TIES) is coordinating the ESTC 2013 and planning a delegation from Sri Lanka.
For more details on the
Conference, contact Palitha on
email; sleco@sltnet.lk or
Mobile; 0777 631334 or log on to
www.ecotourismsrilanka.net
Follow @timesonlinelk
comments powered by

Disqus