Vithana flies to Vienna
View(s):

Childhood to womanhood: A docufilm on Puberty rites of Sri Lanka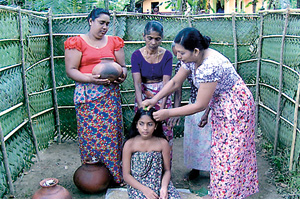 Children's films expert, Ariyaratne Vithana's latest documentary 'Childhood to Womanhood'- Puberty rites of Sri Lanka is to be screened at the forthcoming Vienna International Film Festival.  Produced by Lasantha Chulananda Gunawardana for docufilms International, the film highlights the long preserved rites and rituals related to puberty among different communities in Sri Lanka.
This film depicts the similarities and dissimilarities of the rites and practices performed by all regions of the island from the instance of a girl's first menstruation unto the auspicious bath and the grand celebration. This documentary was filmed on the locations of Neboda, Wellatha, Kalutara and a few villages in the North Central Province.
"Puberty rituals have played a very significant role in the lives of Sinhalese and Tamil communities of Sri Lanka from very ancient times. Sinhala people living in different areas of the island are used to some distinctive practices and rituals on the occasion of the attainment of puberty of a girl," says Ariyarathne Vithana, the experienced filmmaker.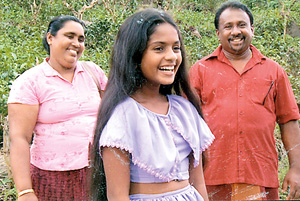 Sinhalese Buddhist culture regards the attainment or coming of age of a girl as an event of utmost significance in her life. People refer to this event as "second birth" of a girl. There are many provincial and regional similarities and dissimilarities in the puberty rituals and practices of the Sinhala Buddhist people. Over the ages, there have been a lot of mixing and borrowings of rituals and practices among the various religious groups of Sinhalese people.
The astrologer and the washer-woman play major roles in puberty rituals. The astrologer predicts the girls future according to the time of the first menstruation after observing her horoscope and recommends various auspicious times to perform the rituals. The washer-woman conducts all rituals and she will be paid in cash and various items. The main roles of the film are played by Melani Asoka, Ama Randi Amarathunga, K.D. Chandralatha and Rohana Abeygunawardana.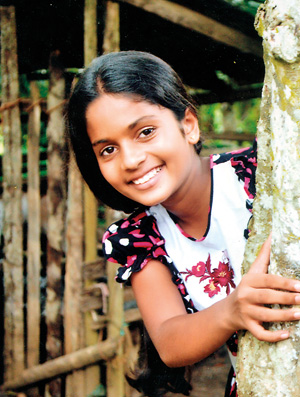 Ariyaratna Vithana is well known in the fields of Sinhala cinema, theatre and literature. He has many film scripts and film directions to his credit. He has directed two children's feature films "Athuru Mithuru" and "Irasma" and has bagged many national and international awards. His latest film script "Gini Kusuma" was published recently in the print medium by Godage Publishers.
Vithana is the founder of the Children's Film Society of Sri Lanka and serves as the General Secretary from its inception. He has followed a practical course in film making in Germany and has participated in many European international film festivals.
The English narration of this documentary is voiced by Sheron Mascrenhas. Indika Wickramarchchi is the director photography, T.A Priyantha- art director, Viraj Maduranga- assistant director, Asanka Udayanga-production assistant, Nalin Munirathne-music director and the docufilm is scripted and directed by Ariyaratna Vithana.
Follow @timesonlinelk
comments powered by

Disqus