Sino – Lanka Education offers MBBS degree from Tianjin Medical University
View(s):

Sino Lanka Education launched in 2006 offers students a degree in medicine from the prestigious Tianjin Medical University in China which is directly under the control of central government of China. U. W. Rodrigo, Managing director, Sino Lanka Educations said that there are two intakes annually and is proud of the fact that 50 students enrol per intake for the 6 year medical degree and currently more than 500 students are following the MBBS degree course in Tianjin Medical University though the servicers of Sino Lanka Educations.

According to the Sri Lanka Medical Council the qualification required to follow medical degree is 02 credits and one simple pass in the bio – stream. The passes should be in Biology, Chemistry, Mathematics or physics at the G.C.E A/L examination. Students opt for a foreign education to meet their goals and aspirations in life when they are not selected to the local universities. Tianjin Medical University was established in 1951 and is recognized by SLMC, GMC, WHO, AMC and IMED. It has a strong teaching capacity with highly developed medical equipment and teaching resources.

At the clinical teaching base, there are 6 university hospitals, 42 teaching hospitals with 15000 teaching beds for internship.
The course is conducted in the English Language, making studies for foreign students a reality. Tianjin Medical University is a very popular off – shore education site for international students providing, a global presence with Asian and western students contributing to a multi ethnic atmosphere.

The MBBS degree in Tianjin is a 6 year programme recognized by SLMC including one year internship. There after students from Sri Lanka could sit for the ERPM (Examination for Registration to Practice Medicine in Sri Lanka) under ACT No 16 of 1965 and get through the written exam and VIVA test to receive 01 year internship and thereafter receive permanent employment.

Sino Lanka educations provide a professional service by selecting the applicant for eligibility, offer a comprehensive brief on the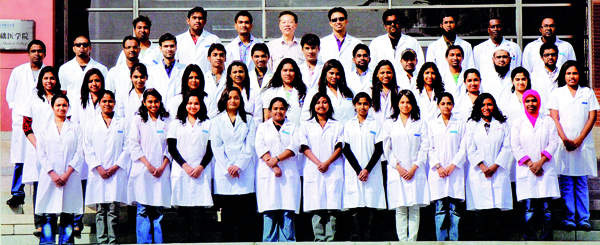 country and the University and a personalized service from the initial documentation process, visa application, travel arrangements etc…., including a free Chinese language class for students selected to give them a basic knowledge to move socially in a country that is alien to them. Rodrigo emphasized the need to keep up an open rapport with parents and students currently in the University to report on their progress and address grievances if any. Currently all students sent through Sino Lanka Education students are doing well and some would be completing their final year shortly. Annual Sri Lankan days are celebrated and a few have also been able to receive scholarships that have been offered by the University on individual performance, After completing the MBBS degree, specialized MD and PhD could be pursued as there is a wide scope for specialized medical studies.
Tianjin Medical university in China provide students an all – round simulation clinical environment of a hospital with facilities for classrooms conducting surgery, obstetrics, gynecology, pediatrics, ICU etc…., and has the capacity to accommodate 300 students simultaneously.
A free medical insurance is provided for the students registered with the Tianjin Medical University and prior to selection students are required to go through a medical examination locally, failing which they could be rejected. Lodging for international students is in the international student Dorm buildings which comprises 400 double rooms with a south Asian restaurant and all basic amenities.
Sino Lanka Education has fulfilled the aspiration of those seeking to pass out as highly qualified doctors with an MBBS that is recognized worldwide.
For more information Contact
Sino Lanka Education (Pvt) Ltd
377/C/1/1, High Level Road, Gamsaba Juction, Nugegoda.
077 304 83 84, 2826 260
Follow @timesonlinelk
comments powered by

Disqus