CIMA Spellmaster in search of Top 20
View(s):

In the journey of finding the Spellmaster 2012, amid happiness, sadness, tension, curiosity, excitement, skills and many other aspects of a true competition, Spellmaster, the all island schools spelling competition, shifted its focus to the semifinals last week. Selecting five entrants from each competition of twenty five, four competitions will bring forth the top 20 contestants at the end of the semifinal rounds. It's now time for the top 100 to battle it out to secure their positions in the top 20.

There's no doubt that the competition is a combination of both skills and luck. In the semifinals each contestant will be given a choice of five categories; business, culture, nature, science and others from which he/she has to select two categories and one word will be given representing each chosen category.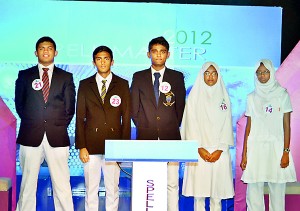 The competition began with only one hope in the hearts of all the contestants. At the end of the first round 9 of the 25 competitors have got both words correct. However, only 5 seats are available to be occupied at the end of each competition, thus, the 9 contestants had to face another round. At this stage, all the 9 entrants were striving hard to secure their places in the top 20. As one by one took their chance, the first four contestants were unable to spell the given word correctly but still there was a hope of remaining in the competition as there were only five competitors left for the five seats available with a high possibility of going into another round. Nevertheless, it was an interesting sight to see that all five contestants, one by one, spell the given word right and consequently were the five contestants who got qualified for the top 20. Gunaseelan Lidushan from Highlands College, Hatton, F.Hajara Nizamdeen from St. Lawrence's Convent, Imthiyas Fazly from St. Mary's Boys' College Chilaw, Kaveesha Dayarathne of Trinity College, Fathima Nazlun of Zahira College Matale are the five contestants who got selected for the top 20 from last week's competition.As this week marked the end of an interesting competition, join us on Sirasa TV, at 6pm for another exciting competition this Sunday to witness the next five contestants who will qualify for the top 20.
Follow @timesonlinelk
comments powered by

Disqus