The third day of the 38th Sri Lanka Age Group Aquatic Championships at the Ananda College Swimming Pool in Colombo saw five records being established in the morning session. This brings the tally of records since the meet got underway on Thursday to 28. The first day saw 12 records being shattered which was followed by 11 records on day two.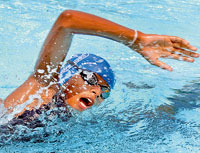 Kalana Wickremarachchi and Kavindu Sumathiratne in action - Pictures by Ranjith Perera.
Among the junior swimmers Vinoli Siriwardena of Mahamaya Kandy had the honour of establishing new records in the first two days and in the morning session of day three she secured her third win which according to sources might be another record which is awaiting confirmation.
Vinoli established new records in the under 13 50m and 100m backstroke and whilst taking the first place in the 50m freestyle event in the same group. Meanwhile defending champions St Joseph's Colombo and Mahamaya Kandy maintained the lead in the boys and category and look set to retain the title for yet another year.
In the boys' category Royal Colombo are right behind the leader with Trinity while in the girls' category Ladies College Colombo is second and will have to do something special today if they are thinking of giving Mahamaya a challenge. In third place is Musaeus College.
The Sri Lanka Schools Aquatic Age Group Championships is conducted by the Sri Lanka Schools Aquatic Association and sponsored by Nestle Lanka Ltd with over 1000 in the boys and 800 in the girls taking part. The curtains of the Aquatic championships will come down today.