The saga of rugby continues as there is more interesting news off the pitch while the excitement on the field is not there as schools season is not on. Rugby on the pitch draws a reasonable crowd for matches that has yet to reach the high one would expect. More so because people talk of the amounts they spend to maintain teams. A surprise for the better is that Police and Havelock's have done much better than they have done in the recent past.
There has not been very much blame but some blame put on the referees as teams fail to live to the standards expected from their club management. A good thing I see is the dialog that is being built by the tournament committee that has been making efforts for the coaches to meet referees and discuss issues. I know it is not easy to start a dialog but as has happened in other parts of the world the conversation will improve.
There have been questions posed and areas for improvement pointed out. There has also been compliments passed on by Grant Dwyer the CR coach who I know as a man who calls a spade a spade. That little compliment speaks a lot and can mean a lot in the society where referees are a vanishing breed.
On the other hand the comments attributable to the Principal of Trinity published in this newspaper last week begs me to ask a question where we are heading to? One wonders whether the ethos of rugby has a place for this type of ridicule. As the Chairman of the Tournament Committee this gentleman should have understood the protocol of appointment of referees for tournament matches. Next is that the tournament handbook of the schools section draws attention of the code of conduct as postulated by the IRB. What can you expect if the hierarchy that is responsible for the implementation of the contents of the hand book flouts their own words?
I wonder why there are so many members of the referee's society recruited to guide the juniors of rugby at Trinity College. Probably because you cannot find anybody better. Can we then think that what is being said has to be taken seriously? I don't believe these chanting have place in the ethos of rugby neither do I believe that it has a place in the ethos of the School that has a long tradition. Yet every dog has his day and he is entitled to it. Considering the need to be conspicuous for living where money buys tradition this may be the way to go.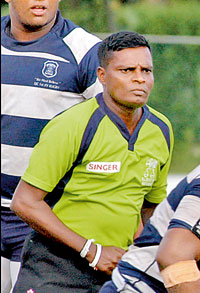 If criticism is level against them at this rate by officials, the rugby referees may become as dead as Dodos.
On the other side there is news of banned substances taken by athletes. As numbers increase the anxiety too increases and people keep asking who has been giving what? The mess is on the rugby field and some lame excuses are produced. The irony of the matter is it does not matter who gave you but you are responsible. The responsibility is yours as WADA would say.
A caution need to be exercised even in the use of supplements. This may be available freely and prescribed without considering the contents that might be harmful or banned. Even the over consumption of energy drinks can have a harmful effect. What has been taken most are supplements that have Methylhexaneamine as an active ingredient. Most sport governing bodies around the world consider most stimulants to be banned. Methylhexaneamine may not be listed but supplements may have may have other ingredients that don't pass the test.
When we live in a world of fast food and instant drinks anything for a quick fix is tried and hope for better results. Some of these come in the form of supplements which may be all right for the normal individual as a dietary supplement but not acceptable to the sportsman as they may contain stimulants that are banned. It is you who have to be careful and take advice as required from those who may know. Ignorance has no place like virginity there is no point in saying it was only once.
Ignorance comes from another quarter as the saga of switching clubs continues with Nuwan Hettiarachchi hitting the news. Can you plead and say I only signed an agreement to play. I was told that if you joined as a volunteer and you are mobilized then you are governed by the laws of that service. It has been fun to join one club and move on if the pay is better. This has been the bane and fall of some clubs who keep losing players. What has happened may not be the best for a civilian cause but what you get is what has tied you down. After all did you or did you not get paid for the services and where did that pay come from?
Supplements have its own side effects whether it comes in the form of pay, coercion or simply as a diet.
Vimal Perera is a former Rugby Referee, coach and Accredited Referees Evaluator IRB