The Supreme Court has dismissed preliminary objections in a fundamental right petition filed by H. Dilanka Wijesekera against Sri Lanka Rugby Football Union (SLRFU) and listed the case to be argued on July 21. The Petitioner has cited former Sports Minister Gamini Lokuge, and 20 others as respondents.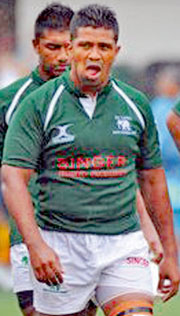 Dilanka Wijesekera
The petitioner has alleged that by the suspension of the Petitioner from the team of the Sri Lanka Rugby Football Union, merely on the basis of his refusal to participate in the Asian Rugby Football Union Five Nations Division – Rugby Tournament which was to be held in Dubai his fundamental rights had been violated.
He said he legitimately refused participation on the basis that his Captaincy was wrongly and unfairly overlooked and a partisan appointment to Captaincy had been purportedly made violating his fundamental rights. The respondents in their preliminary objections stated that this application is out of time and is therefore time barred. The Petitioner has no locus standi to the institute and/or to continue the instant Application; and the Petitioner has failed to demonstrate an infringement of his fundamental rights and that the Application should be dismissed.
Justice Shirani Thilakawardene hearing both sides was of the view that in regards to the case law preferred above, when taken with the above mentioned rules give the Court some latitude to determine inquiry to be in the best interest of justice, especially in matter like this which affects the future of sports which involves, its discipline and the aspirations of young persons, this Court holds that the Petitioners have provided in its pleadings matters that need to be at least considered relating to whether Petitioners are entitled to relief from violation of their Fundamental Rights guaranteed by Articles 12(1), 12 (2) and 14(1) (g). Therefore this Court holds that the Petitioner should be given the opportunity to be heard before this Court on whether there has been a violation of his Fundamental Rights guaranteed by Articles 12(1), 12 (2) and 14(1) (g) of the Constitution.
Fundamental Rights Applications must be seriously considered before they are brushed off in limine without affording the Petitioners the opportunity to unfold the narrative of events. This is particularly so where the claimed rights of parties have purportedly been manipulated and they have not been afforded the opportunity to be considered equally, objectively and impartially in the decision making process of an organization.
The bench of the Supreme Court consisted of Ms. Shirani Thilakawardene, J. Imam and Suresh Chandra. Upul Jayasuriya with Manoj Bandara appeared for the petitioner.