University of Colombo splashed through to clinch the men's and women's titles as they outsmarted their traditional rivals from Moratuwa to sweep the 28th Inter-University Regatta at the Beira Lake yesterday.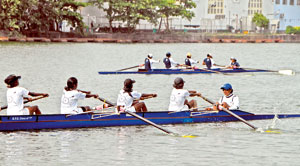 At the Inter University regatta: Women's rowers of the Colombo University (R) taking on the Moratuwa University ladies. Colombo University won this event
(Pic Sanka Vidanagama)
In the process the oarsmen from Colombo varsity regained the Professor Stanley Wijesundera Trophy while their women's team retained the Lloyd Sirimanne Trophy. The University of Colombo (UOC) men's team accumulated 28 points against 14 points of University of Moratuwa (UOM) to win the title with an overall lead of 14 points. The women's team of UOC gathered 18 points overall while their counterparts were able to finish up with 16 points after the completion.
The oarsmen of UOC won the A Sculls (6) and expanded their points tally by winning the B Pairs (4) and A Pairs (10) to gather 20 points while UOM earned two points by winning the B Sculls. UOC earned a further eight points by winning the B Four to have 28 points. UOM won the Boat Race to earn 12 points but the win was not sufficient in the title run. UOM won the C Four and Graduate Four while UOC won the Double Scull, three events sans points.
In the women's championship UOC swept the events B Sculls (2), A Sculls (6) and A Pairs (10) to gather 18 points while UOM won the B Pairs (4) and Boat Race (12) to collect 16 points. UOC won the B Four event which had no points on offer. - NA