Last Sunday I read an article written by one Ivo Keerthipala with a catchy headline "Nails in cricket's coffin". Though the value of the article is only limited to its eye catching headline I thought of writing a response for the same.
It is true that Sri Lanka has extremely knowledgeable cricket fans compared to any other country in the sub continent. Some of them often superior in analyzing the game better than most of the maestro commentators. But the article of Mr. Keerthipala is written on baseless emotional facts and such narrow minded analysis must get a response though it really doesn't deserve one.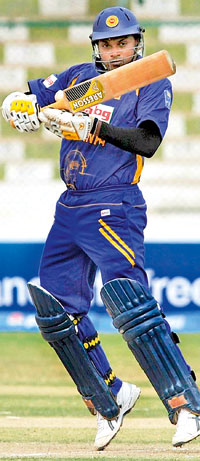 Thilina Kandambi
To do justice for the players he criticised in the article let's analyse his two points . First it was about the inclusion of veteran Sanath Jayasuriya in the squad. As announced by him this will be his last ODI and T20 to be played for Sri Lanka. I must accept the fact that Sanath has not rightly chosen when to retire and delayed his decision unnecessarily by a few years. But I am fully backing the decision of giving him an opportunity to play his last two games. A player who has represented the country in 444 ODIs within 22 years, scored over 13,000 runs, taken 322 wickets, 48 man of the match awards and winning 11 awards as the player of series including the only world cup we won in 1996 must deserve a fair and respectable farewell. I don't think a better time than this for the same since our star opener Dilshan has been ruled unfit and Upul Tharanga is also out of the tournament. Jayasuriya's inclusion could be justified even as a fair alternative when two regular openers are not available to play.
Everybody will agree that we should recognize the excellent contribution he made to convert Sri Lanka cricket team as a competitive and strong opposition. I don't see any negative point on his inclusion with a specific purpose and I believe we normally don't have a good track record in giving an adequate recognition for players who are moving out. This is valid for Sanath and also someone like Murali.
The second point he made is on the appointment of Thilina Kandambi as the Vice Captain for ODIs and T 20 matches. For many people this may come out as a surprise package since he has not played for Sri Lanka after the Asia cup in June 2010. It is no doubt Kandambi is the best possible option for selectors to the middle order after the poor show by Samaraweera, Chamara Silva and Kapugedara in the world cup. There was no match winning contributions from any of those players during the world cup and no reason to continue further with the same failed middle order. Once Kandambi is in, Mathews is not 100 % fit and no Tharanga for next few series has given selectors with no choice other than make him the Vice Captain.
When you critically analyze I must fully back the decision of selectors on keeping faith on Kandambi to be the deputy for Dilshan and even to be the Captain if he is not fully fit. It is true that Kandambi is not a player who was highlighted as a potential captain of the side by general public. But I could recall Sri Lanka's former shadow coach Chandika Haturusinghe once mentioned that Kandambi has good cricket brains and he could one day captain his country. This appeared in his famous article "Haturusinghe Effect" which anyone could still read on the internet. Further in a TV talk show Sri Lanka's only world cup winning captain Arjuna suggested Kandambi as the best possible option for captaincy.
We could not under estimate the fact that Kandambi is the best and the most experienced captain in the second tier. It is true that becoming a good captain and becoming a good batsman or a bowler is two different scenarios. Good players are not always good captains and for that you need to develop different set of skills. I believe Kandambi has mastered those. Captaining Sri Lanka in all age groups i.e under 13,15,17,19 and finally Sri Lanka "A" on numerous occasions may have given him the required exposure to become a good national level captain. I could recall he has captained the Sri Lanka board president's XI whenever a foreign team comes to Sri Lanka and play their warm up games. He has lead Sri Lanka "A" for many exciting series wins including test and ODI series win in South Africa in 2007 the best show by any Sri Lankan cricket team in that country to-date.
It is unfortunate that he could not find a solid position in the team and we must understand 26 out of 31 innings he played at number 5,6 or 7 which is not the best positions to have big scores under his belt. He would have been a much better valued asset for Sri Lanka team if he was given a chance to play for Sri Lanka on more consistent manner.
Mr. Keerthipala's argument has no base since he thinks Kandambi is not suitable for the Vice Captaincy due to the simple fact that Dinesh Chandimal is having a better average than him. How can you compare someone who played only 4 innings with someone who has played 31 innings? Further out of Chandimal's 4 ODI appearances 3 are against a very weak Zimbabwe side and there are two not outs since he went to bat at the last stage of the match which we needed only few runs to win. This has given an artificial boost to Chandimal's average and it's better than any one in the team. Just for the simple fact Chandimal's average is better than Dilshan, Sangakkara, Mahela or Kandambi does not say that he is a better cricketer or a captain than names I mentioned. Certainty he will be a part of the bright future of Sri Lanka cricket but we should not encourage him by giving fake expectations.Even if you take statistics of Kandambi's home average 45.90 is better than anyone in the team and even in the history only Arjuna Ranatunge has a better home record among players who played more than 10 innings inside Sri Lanka. But my argument of his eligibility to be the Vice Captain is not based on mere statistics.
I have written this note since Mr. Keerthipala's analysis is purely based on emotional facts and far beyond ground realities. There are many burning issues in Sri Lanka cricket at the moment and name this as the "Nails in cricket's coffin" is exaggerated claim and only serve the purpose of attract more readers for the article but surely not any content value.
I must congratulate both these players and hope they will do justice for the faith selectors and Sri Lankan Cricket fans have on them.