Colombo Rugby Football Club (CR & FC) continued their winning streak for the 6th consecutive year against their traditional rivals Havelocks SC by 15 Points ( 2 Tries, 1 Conversion, 1 Drop Goal) to 10 Points (1 Try, 1 Conversion, 1 Penalty) win in their Caltex Inter club rugby tournament encounter concluded at Havelock Park yesterday.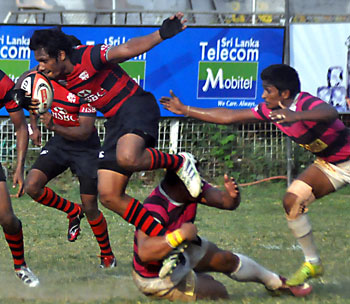 CR&FC full back Mohammed Sheriff leaps over a Havelocks defender. - Picture by Mangala Weerasekera.
At the short breather the scored were dead locked at three a piece. The exchanges were even in the initial half with the CR & FC three quarters looking threatening in their moves. In most of their attacking moves it was their reliable Full Back Mohamed Sheriff joining the line for the over lap. In the loose Havelocks forwards played well, lead by their skipper Kavinda Jayasena who played his heart out. The "Red Shirts" who were forced to defend most part of the initial half did very well in keeping away the Havies from scoring any points.
Once more Ishan Noor was outstanding for CR & FC. He along with Sharo Fernando, who gave superb covering tackles to keep away the Havies from seeing the try line. In the early stages of the game Ishan Noor gave a crunching tackle to Wasim Thaujdeen who was on his way to score a certain try. Reza Mubarak playing as fly half for the "Red Shirts" too had a superb game. He collected 10 points for his team by having a superb try too.
Havelocks SC drew first blood through a penalty kick at goal by their Tongan Centre Atella Uaisela. On stroke of half time Reza Mubarak equalized through a neat drop goal. In the second half both CR & FC and Havelocks SC missed 1 penalty each through Reza Mubarak and Atella Uaisela. Soon afterwards he kicked a loose ball deep into the Havelocks try line and Reza Mubarak dashed his way to score under the posts and added the extra two points to take the lead at 10-3.
Then the spectators saw Amjad Buksh (who played for Kandy SC sometime back) taking the field for the Park Club. But even his presence could not stop the Longdon Place club from scoring their second try through a sweeping three quarter movment which ended in a wingers try for Heshan Gunaratne who brushed aside few defenders to touch down for an unconverted try.
Havies never gave up their current good form and their never-say-die attitude saw their centre Anurudha Wilvara going through the shocked CR & FC defense to touch down. The extra 2 points were added by Atella Uaisela but the Park Clubs drought against CR & FC continued for 6 long years.
Referee Pradeep Fernando