EZY Racing driver Rizvi Farouk showed great prowess in rally driving when he dominated the seasons opener in the Speed Rally Championship in Sevanagala, jointly organized by Sri Lanka's oldest motor racing club CMSC and Rally specialists MRA. Rizvi who was the Rally Champion in 2009, was in great form right from the word go as he showed great speed and control to win the most amount of stages won by a single driver in the Rally Sevanagala 2011 and later went on to almost winning the rally before he was handed a very harsh penalty which cost him the rally victory.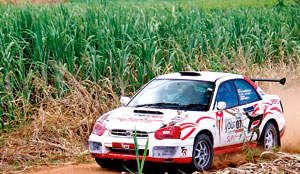 Rizvi Farook in action
Defending Rally Champions EZY Racing, who were represented by the 2010 drivers champion Shafraz Junaid in his ER3 (EZY Subaru STI 3) and 2009 drivers champion Rizvi Farouk in his ER9 (EZY Subaru STI 8), went into the 2011 season opener as a very strong contender to win both the drivers as well as the team rally championship for yet another year.
Both Rizvi and Shafraz, started off exhibiting why they were the past champions by finishing 1st and 2nd respectively in SS1 (special stage 1) as they clocked a far superior timing over the other competitors.
Dinesh Degeragoda in his Mitsubishi Evolution X who finished 3rd on the stage then upped his pace to win the SS2 in which Rizvi and Shafraz yet again battled closely for the 2nd and 3rd places respectively. With SS3 proving to be the last stage on day 1, Rizvi was on another blistering run where he finished a clear 20 seconds ahead of Dinesh Deheragoda to finish day one as the clear leader with a dominant lead of over a minute. Shafraz, who was lying 2nd was on a blistering run in a bid to catch up with team mate Rizvi, when he had a tyre puncture, which cost him 9 minutes.
Day 2, saw Rizvi Farouk, whose team managed to remove the entire engine and re fix it by working the whole of the previous night, extend his lead by finishing on top of SS4. With just 2 more stages to complete the rally, Rizvi decided to take it easy on his car and finished 3rd on SS5 before winning the final stage of the rally, before being handed over a harsh penalty which deprived him of a rally win and positioned him on 2nd place.
After the race Rizvi went on to say "we were pleased to note that we were the fastest team out there, by far. It's quite unfortunate that we were handed a penalty by the stewards, as we had no option but to take an undesignated route in order to prevent an incident when we were touching almost 200kmph.
This happened around 300 meters before the end of a 15KM stage and we strongly believe that it didn't offer us any sort of an advantage. Unfortunately, the officials thought otherwise and handed us a strong penalty which clearly dropped me from a rally winning position to 2nd place. What matters most is not what is printed on paper. It is the fact that we definitely were the fastest out there and no one was in a position to challenge us for the position.
This is something that clearly cannot be taken away" With Rizvi being demoted to 2nd place with the penalty, Dinesh Deheragoda was automatically promoted as the rally leader and Javed Wahab, who had a tough season in 2010 with car problems, finishing 3rd. Javed who was co-driven by his brother Ishraq showed great pace throughout the entire rally in his new car, Subaru STI 8.
With 3 more rallies scheduled, it was clearly evident that the computer manufacturer's racing team would put in all the required resources to go for the championship for a 3rd consecutive year.