Navy Sports Club continued their unbeaten run in the Caltex Division I league rugby tournament by gaining a hard fought 24-18 win against CH & FC at Maitland Crescent yesterday.
CH & FC played up to their true potential on their home turf to spoil a potential bashing by the Sailors as they countered the opponents with a solid defense. Their gritty shielding helped CH to enjoy a morale boosting 13-8 lead at half time. But few vital referee decisions which went against them in the second session put them in the back seat to give Navy a close win.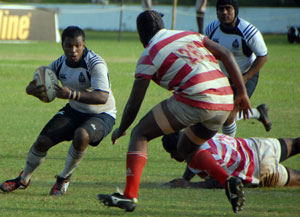 A Navy player tries to side-step a CH player.
- Pic by Sanka Vidanagama
Navy scored three tries and two of them came from hooker Namal Rajapaksa who played a leading role in their win. Navy's place kicker, Dev Anand was off target in his conversions but was spot on to put over a spectacular drop goal and two penalties.
CH scored from two tries, both from their two Fijians, centre Salusalu Ilissa and flanker Driu Manoa who spearheaded the reviving rugby team from Maitland Crescent. One of the tries was converted by fullback Indika Wickramanayake who also put through two penalties.
Navy opened scoring after at the fifth minute when hooker Rajapaksa barged through a maul to cross the CH line for an unconverted try. Later CH fullback Wickramanayake gave his team the lead by putting over two penalties in the 8th and 14th minutes to put the Sailors in command.
CH successfully prevented Navy from crossing over to their territory twice and the frustrated Sailors recovered to lead by 8-6 with a Dev Anand drop goal in the 29th minute. However CH's centre Salusalu punted through to collect the ball and cover 30 meters to spearhead a well covered try under-the-post. With Wickramanayake's conversion CH took the breather with a lead of 13-8.
After the turn-around the Sailors looked at opportunities to penetrate the CH defense. In the 47th minute Anand added three points for Navy with a penalty and two minutes late winger Niranjan Wikramaratne performed the unexpected to give back the Sailors the lead at 16-13. He punted the ball twice across the CH defense which was losing its grip and sidestepped past two opponents to score a spectacular and unconverted try on the right flank. In the 58th minute Anand added three more points from his boot. Rajapaksa who played a leading role in Navy's win came back to action with a similar try off a maul to put his team on the track at 24-13. CH retaliated with vengeance to penetrate the scattered Navy defense but they only emerged successful in the 76th minute when flanker Manoa ran down with three Sailors on his shoulder to score a try. D. Nimal refereed.