Ceylon Tea, the brand name used to market the country's popular product around the world was launched this week with a new logo leaving no space for counterfeits to continue. The Sri Lankan tea industry also launched the Ozone friendly Ceylon Tea together with Ceylon Tea name as well as agro-climatic regional names/logos as certification marks under geographical indicators to protect and add value to premium Ceylon Tea on a global scale.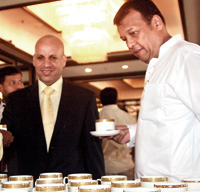 Minister Mahinda Samarasinghe and Iraqi Ambassador Kahtan Taha Khalaf look at cups of ozone- free tea. Pic by J. Weerasekara
With the aim of protecting the "Ceylon Tea" name, seven major regional tea growing area names as well have obtained the necessary Certification Marks under the Geographical Indications (GI) of the Trade Related Aspects of Intellectual Property Rights (TRIPS) through the World Trade Organisation (WTO). The protection of a registration under GIs for a particular product in the home country is a pre-requisite prior to applying for international registration.
SLTB has just concluded the local registration of the name "Ceylon Tea" and the main seven tea growing regions of Nuwara Eliya, Dimbula, Uva, Udapussella, Kandy, Ruhuna and Sabaragamuwa. Sri Lanka is currently targeting Rs.2.5 billion from exports of tea and secure a market position as a producer of high quality tea, Industry and Commerce Minister Rishad Bathiudeen said at the launch in Colombo.
This new certification will identify any goods originating from the place of manufacture that inevitably allows the product to be protected along with its use of the logo.
This will also allow the Sri Lanka Tea Board (SLTB) to receive ownership of the logo and represent Sri Lanka thereby contributing towards the development of the community and/or region. The next step is in obtaining the international recognition that will be carried out in 2011-12 targeting 30 countries, Plantation Minister Mahinda Samarasinghe said.
Sri Lanka is the first country to be recognized as a producer of Ozone friendly tea. In order to capitalize on this significant achievement an awareness programme for member of the tea trade in the country has been initiated. Plans are underway for SLTB to register the Ozone Friendly Ceylon Tea logo in 30 tea importing countries during 2011-2012 as part of this strategic initiative.
He noted that they would be contributing Rs.8.5 million towards this end and a further Rs.8.5 million to complete the necessary registration. This important initiative would help to prevent counterfeiting and misuse of the world "Ceylon Tea" as well as other regional names of tea growing areas/logos, deliver an authentic product to the consumer and achieve international status/protection similar to international GIs such as "Blue Mountain" coffee or "Basmati" rice.
In this respect the SLTB has finalized the demarcation of tea factories under each agro-climatic region. Suitable descriptive narrations for protection of "Ceylon Tea" and other seven regional teas were formulated thereafter.