NEW DELHI -- What if every electronic device in your home was interconnected, intelligent and so sleek in design it seamlessly blends into its surroundings? Sounds like something out of a futuristic sci-fi movie, perhaps? Well, not quite.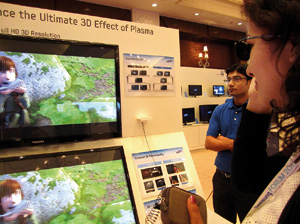 Samsung, the world's largest electronics company, earlier this month launched a line up of innovative products for the year 2011 worldwide and took a bold leap into digital convergence technology.
In the Southwest Asian region, these products ranged from new 3D Blu-ray technology, smart LED and Plasma TVs, Wi-Fi enable cameras, smart phones with upgrades to the Galaxy Tab, Notebook series 9 cased with duralumin (a lightweight protective material used in aircrafts), 4 door FDR refrigerators, wobble technology washing machines and air conditioners that can kill more than 99 percent of harmful bacteria.
The latest devices are said to be of 'smarter, more stylish technology' and have been created on guiding premises of the "Four As"- Access, Align, Amaze and Act. At a forum in New Delhi last month, Samsung unveiled its amazing new technology. Starting off with the line up of TVs launched, Samsung has sought to make them the centre piece of technology in the living room.
Besides reducing the width of the LED TV to a sliver of 0.2 inches, accessories have been introduced to enhance the visual experience of watching TV. These include the lightweight 3D Active Glasses that will reduce cross-talk (ghosting) and viewing fatigue.
Another accessory includes the wireless LAN adapter which will allow viewers access to Internet-based content via Samsung Apps, which also allows for connecting with their mobile phones, notebooks and cameras.
Referring to the core focus being the user, Ravindar Zutshi, Deputy Managing Director, Samsung India stated "human digitalism is the process of creating products driven by how people live, rather than the technology itself." Adding further "Samsung's commitment to the Smarter Life enables Samsung's Smart TV to become the uniting dominant piece of technology in the home that connects, enables, empowers and entertains the entire family".
Samsung says it is leading in LED TV technology and has its sight set on usurping the number one position from competitors of other electronic devices as well. Samsung says it is one of the top selling mobile phone makers and its GALAXY smart phones series has gained popularity worldwide.
The latest smart phones are powered by Android™ and allows for access to more than 150,000 applications from Android Market™.
The phones include GALAXY Ace, GALAXY fit, GALAXY Pop, GALAXY Pro, as well as the GALAXY S II that Samsungs claims is the thinnest smart phone in the world. The GALAXY Tablet has been a device of massive success for Samsung and this year saw the launch of the GALAXY Tab 10.1 and GALAXY Tab 8.9.
However, the smart phones and Tablets have stirred up controversy, as Apple Inc; a rival consumer electronics and computer software company; sued Samsung alleging that the GALAXY Tab is blatant copy of Apple's iPhone and iPad.
The lawsuit was filed on April 15 (the very day Samsung celebrated the launch of its latest products) and was promptly followed by Samsung striking back and suing Apple for infringing five of its patent rights. While the lawsuits ensue, Samsung has released more devices that will have their other competitors scrambling to keep up. Adding to the list are the series of 5 monitors, printers, camcorder and a talking microwave.
The technology released this year was an extension of Samsung's Smarter Life philosophy with which the company has raked US $135.8 billion in global revenue, and hopes to secure the number one position in Southwest Asia.
According to J.S. Shin, President of Samsung Electronics Southwest Asia, Samsung's Smarter Life concept is established on smart designs, smart experiences and smart connections. Currently Southwest Asia contributes a small percentage to the overall revenue acquired by Samsung worldwide, however Samsung officials expressed their optimism in their products having a greater impact in the region and contributing to a whopping 50 % of global revenue.
The products released will be available in Sri Lanka one to two months after the launch. Samsung is working on making these products more accessible to people within the South-west region by reducing prices and presenting cheaper alternatives.
While they might be on to something, questions that arise are, whether the people in Southwest Asia are ready to embrace digital convergence technology or will they be wary of such technology especially with regard to constant upgrades and the release of new applications which will require replacing devices frequently to keep up with the latest technology? And are they prepared to become loyal Samsung customers and equip their households with strictly Samsung products? It's only a matter of time before tell-tale signs manifest revealing how the region will take to Samsung's latest technology.
The younger and more tech-savvy Sri Lankans however, wave away the fears and are eagerly waiting digital convergence technology to reach our shores saying it will be a boon. But with the soaring prices of this technology it might take a while before Sri Lanka sees complete digital convergence in homes.
(The writer was on a sponsored invitation at the forum)