India, because of its proximity, cultural ties and to some extent political links, is fast becoming the biggest-ever tourism source market for Sri Lanka with the number of flights set to rise by almost three fold from a current 100 flights per week, travel industry sources said.
The Civil Aviation Secretaries of both countries held bilateral discussions last week in New Delhi supported by their delegations on the number of frequencies and on the cards is an increase of flights to Chennai in South India to 40 per week from a current 15.
Likewise, frequencies to New Delhi are being doubled to 14 from a current seven per week. "We are going to see a sharp increase in traffic from India and are preparing for more flights along with new planes," one source said.
The Chennai increase is a virtual 'open skies' policy with a flight set to leave Colombo every 4/5 hours daily at the rate of six flights a week. Civil Aviation officials involved in the discussion declined to comment but the formal approval (from Indian authorities) is expected in the next two weeks. Indian airlines too will enjoy the same number of frequencies to Colombo and back.
The move comes in the wake of tourism picking up in the post-war period and Sri Lanka aiming for 2.5 million visitors by 2016. On many sectors, the national carrier is increasing frequencies and a new bilateral air agreement with Britain is to be signed providing for seven more flights per week for SriLankan Airlines to the UK.
A code-share is also being discussed for travel to the US via SriLankan Airlines. On Friday, the airline said it was launching direct flights to Moscow from September. Aviation authorities here are also looking at direct flights to Vietnam and the Philippines among other markets.
India is Sri Lanka's biggest tourism-source market, beating traditional markets like the UK and Germany. Travel industry sources said India has a free skies policy in 18 cities while flights are restricted to the six metros where SriLankan Airlines flies – Chennai, Mumbai, New Delhi, Bangalore, Hyderabad and Calcutta. Mihin Air will also benefit from the increased frequencies.
The sources said that much of the traffic (60-70%) to Chennai and back is what is called 'through' passengers – those who fly to India, the Far East and Singapore using Colombo as a transit base.
Chandrasena to head both SriLankan and Mihin Air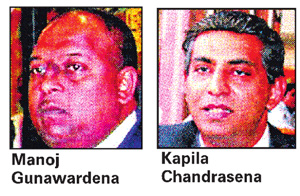 SriLankan Airlines this week appointed a new CEO with Manoj Gunawardena's term coming to an end on 31 July 2011.
Kapila Chandrasena, current CEO of Sri Lankan budget airline Mihin Lanka, was appointed as CEO designate of SriLankan Airlines and will take over from 1 August 2011. He will continue to head Mihin Air as well, according to current plans.
Mr Gunawardene, who has served a long period with the airline, took over as CEO after Emirates exited as a partner of the national carrier in 2008. Asked about his future plans, Mr Gunawardene said, "I am discussing various options with the airline management. Nothing is finalised."
Airline industry sources said he has been offered a regional position in London. The sources said some other changes are expected at the national carrier since the airline Chairman Nishantha Wickremasinghe wants to play an active role in the company with more executive responsibility.