Etisalat (Emirates Telecommunications Corporation), on a high after launching their Long Term Evolution (LTE) ready network which will support mobile broadband Internet access at a higher speed than is currently available, is open for acquisitions in related fields to complete their portfolio of services, according to officials.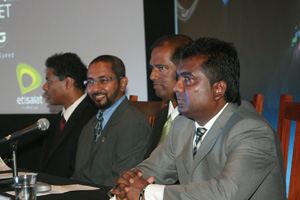 Duminda Ratnayake, CEO and other officials at the launch
"To complete our product offering we need to extend our value chain. We are open for acquisitions to complete our portfolio in fixed line Internet businesses," an official told the Business Times on the sidelines of a media conference to launch the country's only 3.75 G network recently. The other telcos use 3.5 G technology.
The official said that this network will ensure seamless Internet connectivity, while users can experience fast, smart and meaningful Broadband services. He said that the company has seen a steady growth since February last year when they launched Etisalat. Millicom International Cellular SA in early October 2009 sold its fully-owned subsidiary in Sri Lanka, Tigo, to Etisalat in a competitive bidding process. He added that Etisalat is quite keen to acquire related businesses. "We are open for discussions pertaining to such ventures," he emphasised.
Dumindra Ratnayaka, CEO Etisalat said that their Broadband (a high data rate connection to the Internet) coverage will expand, covering all the districts and key cities in the country with continuous and rapid expansion. "This service will take us closer to achieving our ultimate goals of providing unsurpassed services and reaching out to our consumers.
This is the first and only 3.75G technology to be introduced to Sri Lanka, capable of very fast Internet access, mobile TV applications, video streaming and video calls," he added. He said that this expansion further supports the latest in Value Added Services, Billing and all IT/communication services.
"We have realized that Mobile Broadband penetration is still at its early stage in Sri Lanka. Extensive research carried by Etisalat identified the key barriers for the growth of Internet in Sri Lanka. We have identified these areas and will overcome them having understood the potential and aiming at breaking all barriers by reaching out at a grass root level," Mr. Ratnayaka said.